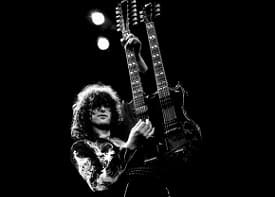 It's no secret that each major religion has a group of artifacts that its followers hold a high respect for. We guitar players have the same artifacts that we respect. The main difference is that ours can be used to raise fists and get laid. Well, Gear-Vault has put together a list of said guitars, so let's take a look at what many guitar players say are the holy of holies; the top ten most famous guitars, in no particular order.
Jimmy Page's Gibson ES-1275 Double Neck
This undeniably cool axe made its mark on history on many incredible tracks like "Stairway to Heaven", "The Song Remains the Same", and at least in a live capacity, "The Rain Song". This guitar has always been revered as a monument in versatility, uniqueness, and Led Zeppelin.
Stevie Ray Vaughans' First Wife


Stevie named this guitar on good merit. A 1962 Stratocaster, this guitar had seen more action than a New Orleans hooker during Mardi Gras. According to legend, Vaughan attempted to switch his tremolo to a left-handed model, to pay tribute to his idol—Jimi Hendrix. After the botched surgery didn't take, he covered up the gaping hole he left with a "CUSTOM" sticker he found at a truckstop. This is also where he picked up the famed "SRV" stickers he also plastered on the front of this guitar. Even after all its rebuilds, repairs, and remodels, this guitar was played on every one of his albums.

Jimi Hendrix's 1968 Woodstock Strat
There's no doubt you have seen this if you've opened your eyes and seen a TV, a magazine, or just about any other media outlet. Said by many to be "The most iconic guitar in history", the aged strat will go on to be iconic for many years to come, currently on display at the Experience Music Project in Seattle.
Rick Nielsen's Five Neck Hamer


What is there to say about this guitar other than it's righteously bad ass!
Each neck has its own difference than the last, and the tally comes to: One 12 string, three six strings (with varying bridges), and a fretless.
Paul McCartney's Hofner Bass
Ok, ok, so it's not a guitar like we were talking about before. Still, it is a pretty powerful symbol of the beginnings of rock n' roll, and technically is one. Dubbed "The Beatle Bass" by many, this guitar has accompanied McCartney throughout his entire career.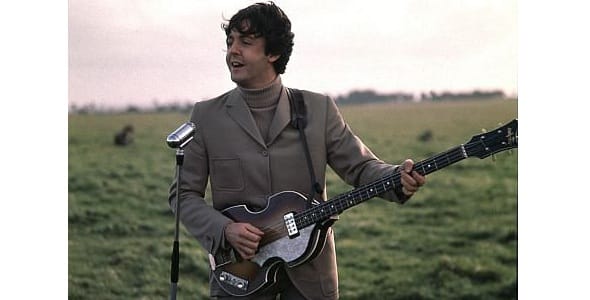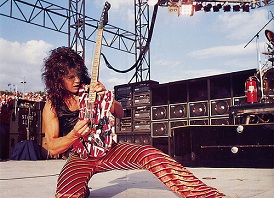 Eddie Van Halen's Frankenstrat
This guitar was constructed by Eddie using a flawed ash body, and an ordinary maple neck, along with a Gibson pickup he gutted from his
ES-335
. Soon afterwards, the classic Red, white, and black paint job was added. Years and years later, this guitar has been reproduced, replicated, imitated, and everything between.
Brian May's Red Special


Built by May and his father, The Red Special has been used on every Queen album since their inception. Brian has called it "Fireplace", because the neck was made from the wood of a fireplace mantle. The name "Red Special" comes from the fact that it has been repeatedly stained with many layers of Rustins' plastic coating.
Blackie


If you don't know this guitar, we need to talk. Of course, I'm talking about the famed "Blackie", Eric Clapton's famous black and white Stratocaster. After buying six Strats from Sho-bud in Nashville circa 1970, Clapton gave one to Pete Townshend, Steve Winwood, and George Harrison. It was with the remaining three that Slowhand assembled what would be known as one of the most famous and identifiable guitars in history. Blackie first saw an audience on January 13th, 1973, at the Rainbow Concert. It was retired in 1985 because of issues with the neck, although it was played a few more times before being sold at auction to Guitar Center for $959,500 in 2004, setting the record for the world's most expensive guitar.

Zakk Wylde's Bullseye Les Paul
Interestingly enough, this guitar doesn't actually have any special nicknames or trademark call sign. Zakk has played this guitar throughout his entire career with Ozzy and Black Label, and it's reported that the paintjob was chosen to differentiate his axe from Randy Rhoads' Les Paul. The graphic was originally intended to be the cover art for the movie Vertigo, (Pictured Below), but it came back incorrect. Wylde liked the graphic so much, he just decided to keep it that way.

David Gilmour's #0001 Strat
Hooray! The first ever strat has been found!—Not really. The strat isn't actually the first every built, despite the convincing serial number. This doesn't diminish the #0001-not at all. Gilmour has stated that the guitar belonged to Leo Fender, who then sold it to Seymour Duncan, where it was sold to Phil Taylor. When Taylor needed money to buy a house, he approached Gilmour, who would only lend him the dough if he sold him the guitar. in 1995, guitar journalist David Mead inspected the guitar for an article, and found that the neck has the marking "TG 6.54" suggesting the fender craftsman Taddeo Gomez, a popular name amongst vintage strat players. Gomez is known for his high quality work and his habit of inscribing his initials on the guitars he played a part in creating. Other Famous guitars with his initials are Eric Clapton's "Brownie", and the famous pre-production strat "Miss Daisy".