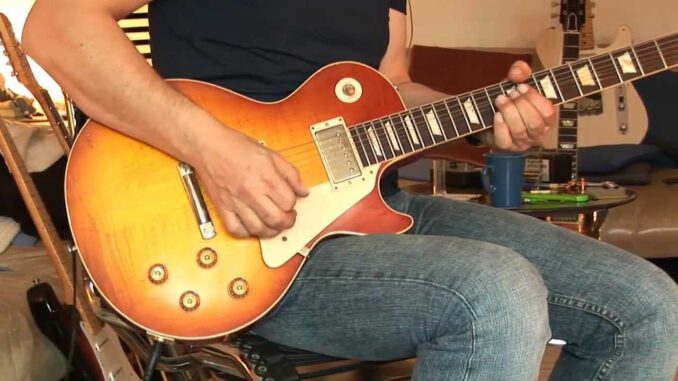 Eric Clapton's original 1960 Les Paul Standard is legendary for not one, but several significant reasons. Clapton's playing on John Mayall and the Bluesbreakers' Blues Breakers with Eric Clapton album of 1966 (forever after known as "The Beano Album" because Clapton himself was reading a Beano comic book in the LP's cover photo) is seminal blues-rock — searing, dynamic and ferocious. While anonymous street artists famously scrawled "Clapton is God" on the walls and train stations of London, the virtuosic ex-Yardbird brought the mighty sunburst Les Paul roaring back to popular music. One listen to the creamy, yet biting snarl of Clapton's playing on tracks like "Hideaway," "Double Crossin' Time," or "Key to Love," and countless guitarists the world over were instantly turned on to the power of this rare, and previously under-appreciated, Gibson solidbody electric guitar. Virtually overnight, the single-cutaway Les Paul (deleted from the Gibson catalog after 1960 and redesigned to the double-cutaway SG body shape) was a "must-have" for any serious guitarist who wanted to make their mark on music — leaving a lasting impact on the history of rock and blues.
That is the exalted side of the "Beano Burst" legend. The tragic side of the tale is that this groundbreaking instrument was stolen from the artist later in 1966, while Clapton was rehearsing with Cream for the band's first tour, and was never recovered. Now, for the first time ever, Gibson Custom and Eric Clapton have teamed up to revisit one of the most legendary Les Paul Standards, a guitar produced in honor of an iconic instrument lost to the public eye for nearly 45 years.
The Gibson Custom Shop Eric Clapton 1960 Les Paul has been created with the close personal cooperation of the artist, and with painstaking reference to available photographs. Clearly there are special challenges in creating a guitar based on one that no longer exists, but this strictly Limited Edition instrument accurately represents what Eric Clapton personally feels his 1960 Les Paul should be. Every component in the build—including grain pattern and finish color, neck profile and feel, pickups, and more—has been personally approved by Clapton through several iterations from Gibson Custom so that, ultimately, this guitar comes as close as possible to recreating the hallowed '60 Burst as it exists today in the mind of this legendary artist.
The Eric Clapton 1960 Les Paul will be produced in extremely restricted numbers: 55 guitars will be hand-aged by renowned finishing expert Tom Murphy, and hand-signed by Clapton himself (with Clapton keeping the first 5 guitars). A further 95 guitars will be Murphy-aged, and 350 guitars will be finished with Gibson's Vintage Original Spec (VOS) treatment. All 500 guitars will display striking characteristics of the artist's original 1960 Les Paul Standard, including the subtly figured maple top with luscious Antiquity Burst finish, period-correct hardware (including Clapton's own upgrade to Grover tuners), and two of Gibson's finest reproduction PAF-style humbucking pickups.
In short, this is the closest we will ever come to recovering this long-lost rock legend, a cornerstone of blues-rock history. Surely one of the most collectible artist's guitars Gibson Custom has ever produced, the Limited Edition 1960 Eric Clapton Les Paul is bound to go fast, so secure yours now at your authorized Gibson Dealer.
Product Features:
One-piece Mahogany back with carved maple top
Thinner 'Clapton' neck profile
Rosewood fingerboard with acrylic pearloid trapezoid inlays
Custom-made Custom Bucker pickups for accurate tone and performance
Nickel-plated Grover kidney button tuners
Gibson Eric Clapton 1960 Les Paul Video Demonstration