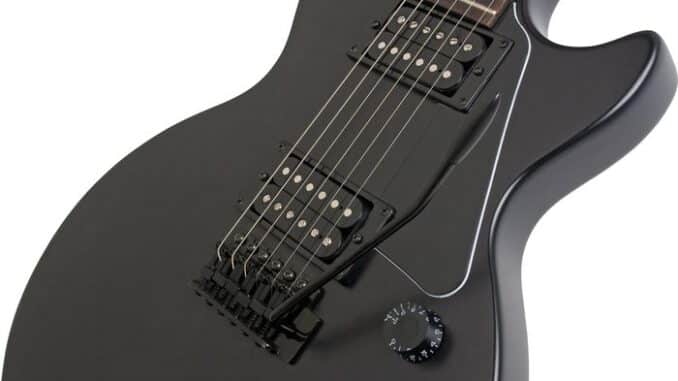 Epiphone's determination to build high-quality, high-standard guitars with a reasonable price tag began many decades before our current economic situation, making the company a long-trusted foundation of "great bang for the buck" instruments.
Epiphone's GT II Series is no exception, it sets a new standard for affordable fine crafted guitars. The Explorer-GT and Special II-GT each street price for around a couple hundred bones and deliver superb tones, inspiring playability, and fabulous features.
How Are The Guitars Features and Hardware?
Both of the Epiphone GT models are constructed with thin mahogany bodies. This allows them to resonate at high frequencies which boosts note definition. And, of course, this also serves to the lighter weight that results in overall playing comfort. The GT Series' guitars boast 24 ¾-inch scale maple that is secured into place with a recessed four bolt-on pattern, so you will never feel the screws when playing higher up the neck – shred with comfort. A reasonably flat 14-inch radius makes the guitar possible to play with very low string action and not fret out on losing single-note punch or a bend, and the guitars relatively thin C-shaped neck curve is comfortable for both large and smaller sized hands.
These guitars have an appealing chocolate semi-gloss finish, which allows the wood to vibrate and feels like it's perfectly worn in, but don't get this confused with relic guitars. The guitar features sealed lightweight tuners, like those seen on guitars back in the '70s. The GT Series does hold its own with a solid tuning stability, especially for a $199 guitar.
Epiphone equipped these guitars with ceramic-based humbuckers with definition and sizzle that delivers well rounded sounds from jazz, blues, classic rock, metal or serious hardcore thrash. Each Epiphone GT guitar has a master volume, master tone and spring-loaded tone pot with a momentary "killswitch" feature that interrupts the signal when the switch is pushed or "tapped" down, making it possible to instantaneously create Randy Rhoads and Buckethead rapid-fire toggle KILL effect.

The Explorer-GT's body is about 15 percent smaller than the original Explorer, which makes the guitar comfortable for beginners and smaller guitarists without sacrificing appearance and playability. It features the legendary tune-o-matic and stop-tail piece and a cleverly angled neck heel.
The Special-II GT has met the needs of countless musicians with its blend of Les Paul features, great tone, and affordability. This guitar is a full-on, in your face rockin' machine with all the same features that you've come to expect from Epiphone. The Special-II GT gives you the look of a Les Paul and the low-end enhancements of the classic rounded upper bout in a lightweight and dynamic package. The neck heel is contoured for effortless fingering higher-up-the-scale frets and boasts a six-screw vintage-style tremolo system.
How Do These Guitars Perform?
Although the GT Series' differing body shapes create slightly different acoustic tonalities, the Gibson 650R (neck humbucker) and 700T (bridge humbucker) dominate each guitar's individual characteristic tone with upper midrange distinction and high-end crystal clear sparkle, making these instruments well suited to plug-in to modified Marshalls and Mesa Boogie Rectifier-style amplifiers. Between these two axes, the Explorer-GT has the more prominent midrange attack, while the Special II GT produces slightly rounder tones and a bit more low end.

I found the clean tones of these guitars surprisingly usable. By experimenting with the neck pickup and various clean amps with reverb, you can actually pull some serious jazz sounds form these guitars. They were warm, true, and reminiscent of three-dimensional arch top-style tonal responses.
If you play near the bridge, you'll notice the Explorer GT's reduced body size places the controls rather close to the picking hand, and as a result, you make accidentally twist the volume when picking. On the positive side, the killswitch tone switch on both guitars is one of those features that Epiphone and Gibson should have incorporated years ago–Buckethead Les Paul uses the red buttons, it's a useful feature.
The Final Verdict
With its slim contoured maple necks w/ Rosewood fingerboard upgraded with pearloid parallelogram inlays and 22 medium-jumbo frets. Recessed bolt neck, all 22 of those frets are easy to access and it's SlimTaper neck profile make it comfortable and fast. Thin mahogany body and specially designed humbuckers, the Explorer-GT and Special-II are exciting guitars for players across the spectrum, from jazz and blues to metal. Wrap it all up in a "worn" black finish that feels vintage all with a price tag that any guitarist can afford and you've got a classic Epiphone made just for you!
Other features include a tapered heel for more comfortable access in the upper frets, Epiphone's LockTone tune-o-matic/stopbar combination for re-stringing ease and increased sustain and of course, their Limited Lifetime Warranty with 24/7/365 Customer Service.
Epiphone – Les Paul Special II Guitar Video Review