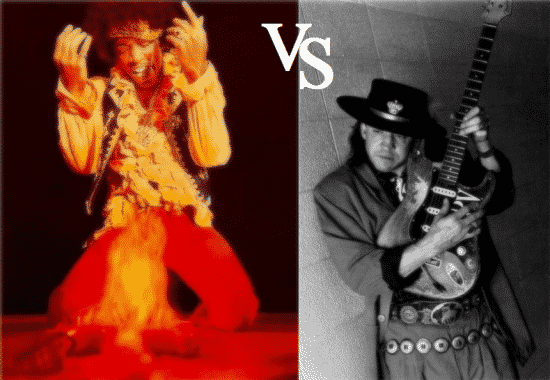 Two of the most revered guitar players in the blues/rock universe are Jimi Hendrix and Stevie Ray Vaughan. Both men helped define the sounds of their respective eras and are icons of the instrument and are most likely responsible for launching more guitar-playing careers (both real and air) than any post-Beatle guitarist outside of Eddie Van Halen. Today, however, your humble man of letters here at Gear-Vault has been given the difficult task of pitting Jimi and SRV in a head-to-head battle for musical supremacy, which is truly no easy task. In the flyover, both men share many similar qualities, from their explosions into public consciousness to their preference for Fender Stratocasters to their untimely deaths. When examined more closely, however, there are some major differences between the two that just might give one the edge over the other. Want to watch the fur fly? Keep reading.

Jimi Hendrix could be said to be the first modern rock guitar player. When I first heard Jimi in junior high school, I didn't see the big deal; everybody sounds like this, right? What I didn't realize at that young age was that, before Jimi broke, NOBODY sounded like him. Really, to this day, any rock guitarist standing on a stage in front of a Marshall stack with a bunch of pedals on the floor wearing a flamboyant getup is standing in Jimi's shadow, whether they know it or not. Before Jimi, blues guitarists played straight blues and rock guitarists ranged in style from The Beatles to the Stones to, at the heaviest, The Who. Jimi changed all that by combining the blues with rock's raw power and psychedelia to give birth to the modern era of rock guitar and this influence is still being felt to this day. He wasn't afraid to live and play on the ragged edge and to push the limits of what his guitar could do and what an audience could groove on. Some folks can't get into his live my-amp-is-on-fire-and-about-to-explode sound, but Jimi's legacy as an innovator can't be denied. He changed the way our game is played and music would sound quite different today if he had not come along.

Stevie Ray Vaughan, on the other hand, was bound by tradition to a greater degree than Jimi and, in fact, Jimi's music was a big part of SRV's sound. Stevie, in the big picture, was a combination of Jimi and Albert King with a whole lot of Texas thrown in to hold it all together. Stevie's genius was taking these influences, which were way out of style when he hit the big time, and making them into something that rocked the airwaves and the audiences of the 1980's. He was also a better technical guitar player than Hendrix and could play with precision as well as abandon and took blues/rock to a higher level than it had been previously. In addition, Stevie was arguably the best Hendrix interpreter to have come down the pike to this day and had the respect and chops to take Jimi's music to places it had never been. Stevie's version of Jimi's "Little Wing" has become, to many, the definitive version of that song and one of the most moving guitar instrumentals ever put to tape. Stevie didn't change our game as Hendrix did, but he did elevate the level of play, especially when it comes to the blues.
So who wins the fight?
It depends on what you are looking for. Hendrix was clearly the better innovator of the two, establishing a sound and musical vocabulary that has become part of our collective musical selves. Stevie, on the other hand, was a better guitarist and could deliver a more refined and better-executed version of the Hendrix vision, which he also helped keep alive. If you want to witness the 'big bang' that launched rock guitar playing onto the path that leads to today, Hendrix is your man. If, however, you want a more sophisticated take on the blues/rock hybrid, it is Stevie Ray all the way. Me? I'd call it a draw.
Hendrix VS. SRV