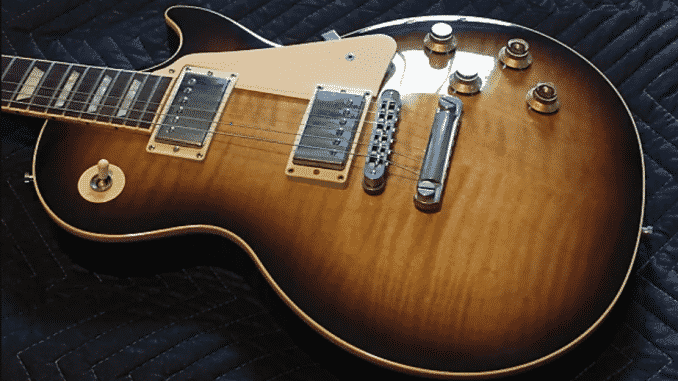 An interesting debate was brought before our attention and felt we should pass it along to you good folks. How does the Gibson Les Paul compare to the Epiphone Les Paul when Epiphone is owned by Gibson Brands, Inc. (formerly Gibson Guitar Corporation)? Let's put your mad guitar knowledge to the test! Please feel free to comment at the bottom of this comparison review! 
Gibson Les Paul and the Fender Stratocaster are, without doubt, the most iconic solid-body electric guitars since their invention. 
The legends, Mr. Les Paul and Mr. Leo Fender were in a 'friendly' race to develop the first solid-body electric guitar to the public. Without their 'rival' back in the mid-to-late 40s, through the mid-50s, there may not be the influential Les Paul solid-body electric guitar, at least not how we know it today.  Had that been the situation, perhaps we would not have these iconic Les Paul rockers such as Peter Frampton, George Harrison, Jimmy Page, Joe Perry, Ace Frehley, Zakk Wylde and Slash among others.   
At first glance, these two guitars appear quite similar. Some musicians might even have trouble distinguishing between the two. While each Les Paul looks almost identical, the major difference you will notice, aside from the logos being distinctive, is the characteristics in the winged-shaped headstock.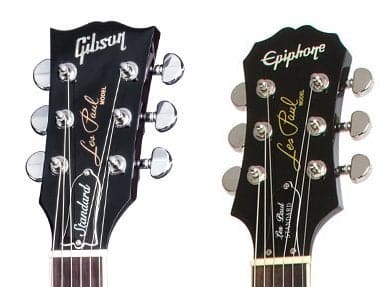 What's the difference in Gibson and Epiphone Les Paul headstock? Gibson has the "Gibson" symbol and Epiphone as the "Epiphone" symbol embedded in the headstock.
Gibson has more of an outward arch that goes sharp up the sides for pointy edges. Whereas, Epiphone has more of a droop headstock with a rounded contour in the middle with the sides trimmed off, giving each headstock a distinctive winged-shape style. Each respective headstock is patent to the parent company; Gibson Brands, Inc.
Gibson Les Paul Compared to the Epiphone Les Paul
Gibson can cost as much as seven times higher than the Epiphone Les Paul. The instrument on the left is perhaps the most recognizable guitars in the guitar community: the Gibson Les Paul Standard.
You can purchase a Gibson Standard for around $2,500- $3,500. Pictured just to the right of the Gibson is the Epiphone Les Paul Standard, which clocks in at $499 (or $599 for the Standard PlusTop Pro). Now we recognize that Epiphone is Gibson's junior brand (not to be confused with the Gibson Les Paul Junior). 
To settle this issue once and for all, we've done some investigating to determine what the variations between these two are. Whether or not that difference is worth the extra two grand. To do this as fair as possible, we've made an attempt to avoid subjective statements (i.e. "but the Gibson just feels better"). Instead will be taking a look at the hardware of these two guitars. So without for ado, let's dive into the varied world of the Les Paul. There are a few points of discussion that will hit along the way, including:
Video – Can you tell the difference between the Gibson and Epiphone?
Guitar Aesthetics – The Actual Design of the Guitar
Tonewoods – What the Guitar Is Made Of
Finishes – How the Guitar Is Protected
Pickups – When Electronics Come Into Play
Phase Control and Bypass Capabilities – Some More Electrical

Variations

Business Branding – "Only a Gibson is Good Enough"
Guitar Aesthetics – The Design of the Guitar
Let's begin this investigation by inviting you, the reader, to examine the infographic image above. But this time, pay attention to the aesthetics of the guitar. As you can see, most of the stylistic touches between these guitars are nearly identical.
Both feature the classic four knob control system with 22 jumbo frets marked by the classic Les Paul trapezoid inlay.  Both Les Paul guitars each sport similar pickguards, Grover Locking Tuners (on the Gibson Standard), and classic Grover Tuners (on the Epi), and Tune-O-Matic a bridge — though Gibson will implement higher quality hardware. Both guitars finish with somewhat not-so-similar headstocks. If we choose just to examine the visual similarities between these two guitars, you'll find them to be quite similar. Although seemingly similar, these are not the same guitar. The most striking distinctions between these two guitars are:
Tonewoods – What The Les Paul is Crafted From
Both Les Paul features a thin, 60's style mahogany neck with rosewood fingerboards. Each instrument's underbody is crafted from mahogany wood. These instruments vary when it comes to their top material. The Gibson Les Paul is constructed from 3/4 inch flame maple wood. The nitrocellulose finish adds a nice touch. Conversely, the Epiphone uses a maple veneer and standard gloss finish. What this boils down to is different crafted tops make notable variations in each guitar's tone really impacting your sound. 
FYI, random but relevant information: veneer is created by gluing a multitude of thin sheets of wood together. While this creates a product that is less likely to crack, it seems to slightly alter the dynamics and removes a bit of the lower mid warmth.
Since the maple top and the tone associated with it is one of the most ICONIC parts of the classic Gibson Les Paul. This point of contention seems to indicate at least one area where Gibson's Les Paul is demonstrably better than its Epiphone red-headed step-child. However, wood is only as good as its protection, and as you may know, these two guitars have unique finishes…
Types of Finish – How the Guitar Shines
We touched on this in the previous paragraph, but there is a huge contrast between these two types of finishes.
Gibson's Les Paul uses a nitrocellulose finish which painstakingly applied via spray to the guitar (the fumes are toxic to breathe).
Despite the hassle, when applied properly, nitrocellulose finishes are very thin, allowing them to create a minimal impact on the vibrations of your guitar body while playing.
The Epiphone's standard gloss is roughly analogous to what you might find in your local hardware store. It's easy to apply and protects your instrument well, but must be applied thicker, reducing the guitar's ability to vibrate. This can lead to some changes in tone, though these changes won't be as noticeable as the differing pickups…
Gibson vs Epiphone Pickups – When Electronics Come Into Play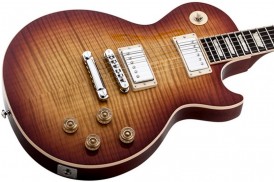 Although a bit difficult to see in the picture, these two guitars differ in their choice of stock pickups. The Gibson Les Paul features their standard BURSTBUCKER alnico humbucker pickups; Epiphone instead created the PROBUCKER alnico humbucker as a tribute to the classic BURSTBUCKER.
The PROBUCKER is a cheap adaptation of the BURSTBUCKER (which is just a lower end interpretation of Gibson's PAF pickups). Both of these humbuckers boasts the same materials and wiring. However, the PROBUCKER has a particular connection type, with four simple input connections. — This makes it easy for inexperienced players to work on their pickups, but does reduce the sound quality of the pickup ever so slightly. It should be noted that the PROBUCKER pickups only come on the Epiphone Les Paul Standard Pro. The lower end Epiphone Les Paul's do not feature as nice alnico humbucker pickups. In all, the BURSTBUCKER pickups score another point for Gibson.
Now say PROBUCKER / BURSTBUCKER 3 times fast. Go ahead, we'll wait
Gibson vs Epiphone Electronics – Phase and Bypass Capabilities
Another area of disparity between these two guitars is the addition of new controls to the Gibson. The Epiphone only features the standard 2-tone, 2-volume controls, and the pickup selector, Gibson's take adds in phase control and true bypass capabilities. This allows for a professional quality recording that will be in phase and contains minimal noise and static.
It almost seems to highlight the fact that Gibson wants their instrument to be viewed as professional quality, as opposed to the entry-level Epiphone.  Gibson's line of thinking might be on to something… business branding.
Gibby vs Epi Overall Craftsmanship – American vs Import
The biggest dissimilarities between these two instruments, with Gibson crafted in the United States, specifically in the "Music City" — Nashville, Tennessee since 1974, and Epiphone in China since 2004.
Gibson handpicks all the best tonewoods to build their instruments and only uses the highest quality of materials during the assembly process. The final magic comes from the amount of time they put into sanding and smoothing the neck, rounding and buffing the frets, and making certain everything is absolute perfection. Gibson guitars will always look nicer and play better than Epiphone! These instruments are a work of art.
Nashville Gibson Factory is known as the "solid-body mecca" of the world. The Factory has around 500 employees and their employees stay with the company forever. Gibson does not have a high turn over rate due to the pride put into their instruments and how well Gibson treats their craftsman. Suffice to say, Gibson guitars are well-built and finished in utmost detail, including each guitar being professionally setup by a qualified Gibson technician before it leaves the factory.
Epiphone Les Paul's are currently made and imported from China, and they do fine work. Their quality holds up and the instruments they send over the seas to us are excellent. The wood quality, electronics, and finish are where you will see the disparities when you conduct a hands-on, side-by-side review — and as the audio samples at the end of this page will allow you to hear the difference.
As for playability, you won't find too many complaints. Epiphone's quality control is not as strict as their mac-daddy, Gibson. Epiphone stands behind their product and sees to it they put a quality guitar in their customer's hands. In most cases, any good brick-and-mortar guitar store will make certain the guitar is setup correctly before it leaves the store. Purchasing online is more of a crapshoot, but I've always had good luck.
Gibson Les Paul guitars are crafted whereas Epiphone Les Paul guitars are made.
Branding – "Only a Gibson is Good Enough"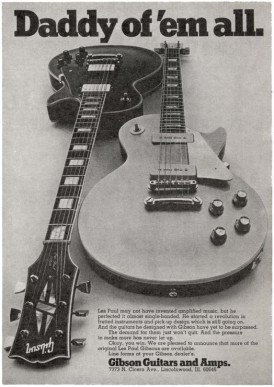 In all, it's pretty undeniable that Gibson seems to have all-around better hardware, which shouldn't come as a surprise. However, even after this review, we are still not sure the qualities between these two are around $2400 simply due to hardware, finish, and craftsmanship.
The powerful branding techniques, built on the legacy that IS GIBSON, are behind this pricing conundrum. After all, each of these guitar manufacturers both need and want to make large stacks of cash.
While Gibson is undoubtedly the better guitar in terms of construction, chances are that much of the price discrepancy is related to branding. Think about it… Gibson knows that Les Paul is its most popular model on the market. It is arguably the most influential model of any brand of guitar!
Due to the laws of supply and demand, as Les Paul became more popular, the prices of their higher and lower-end models have polarized. Their more expensive, professional-level guitars have only increased in price, while their bottom end Les Paul (Epiphone) has become more accessible at a significantly lower price.
This stratification has created enough space in the market for two players, Gibson and Epiphone. So long as one remains a high-end product while the other is lower end, the two facets of this company won't cannibalize each other's sales, leading to maximum profits for both.
When Gibson began pricing their Les Paul, they chose a value that would maintain their notoriety, while remaining accessible for a specific type of consumer ($2,500 isn't too painful to spend when playing guitar is your profession). Gibson's branding might explain the discrepancy in price between these two guitars; a difference so great that can't be justified by better hardware alone.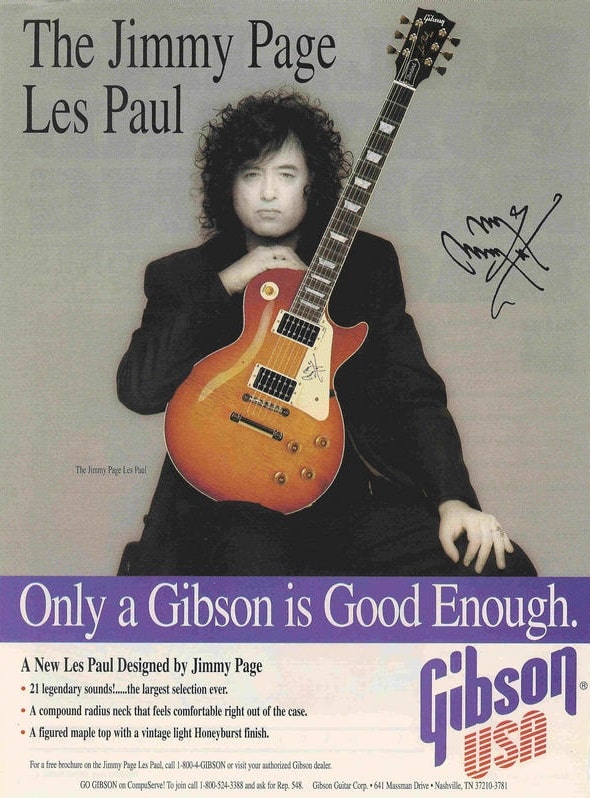 In reality, the discrepancy in price between these two is a combination of the following: branding, consumer perception, the actual physical hardware and construction of the guitars.
We hate to say this, but for the sake of journalistic integrity, we must: We don't think the price discrepancy between these two guitars is fair. Sure, we might understand the reasoning behind this contrast, but that still doesn't convince us that Gibson is worth all $2,400 of those extra dollars.
Epiphone vs Gibson Audio Comparison
Now for the fun part of this Comparison! Listen close to each unrevealed Les Paul playing in the sound sample for a blind comparison in the audio sample below. In total, there are three well-recorded tone samples; clean, crunch and high-gain.
First up, each guitar is played in the neck position on a clean amp setting, as you can hear in the audio sample, the first guitar (Guitar A) has more volume and a more chime, whereas the Guitar B is a bit more-crisp with the mids and less volume output.
Moving on to the crunch setting on the amplifier, playing through a JCM 800 sim — Guitar A is much brighter and has more attack, Guitar B is maybe a bit more dark, not as much treble — though not muddy.
Finally the high-gain amplifier setting! In this example, Guitar A has a slight bit more crisp-ness sound and more bass, more scooped. Guitar B is again, more dark with more mids.
The Audio Sample Reveal: Which Was The Gibson and Which Was The Epiphone?
Clean setting, neck position
Guitar A = Gibson Les Paul
Guitar B = Epiphone Les Paul
Crunch channel, bridge position
Guitar A = Gibson Les Paul
Guitar B = Epiphone Les Paul
High-Gain channel, bridge position
Guitar A = Gibson Les Paul
Guitar B = Epiphone Les Paul
I'm sure your keen ear could notice the output and tonal characteristics between the Gibson Burst Buckers and the Epiphone Pro Buckers. You could tell the Burst Buckers have more output and the Pro Buckers have more midrange but are more-dull.
How thick is the maple top on a Les Paul? Another contributing factor to the brighter sound on the Gibson Les Paul is the 1/2 to 9/16 -inch maple top, whereas the Epiphone Les Paul is veneer 1/4 -inch. Maple tonewood is a brighter sounding tonewood.
Gibson vs Epiphone Final Summary
Guitar Aesthetics – Slight Variation of the Headstock
Tonewoods – Maple Wood vs Maple Veneer
Finish – Nitrocellulose Finish vs Standard Gloss Finish
Pickups – BurstBucker vs ProBucker – Gibson Les Paul is brighter sounding. Both are alnico humbuckers
Electrical Characteristics – Phase Control and Bypass Capabilities vs Standard Controls
Business Incentives – American Made vs China / Overseas Made
Price discrepancy – Ouch!
If you hate our analysis, then we'd love to hear from you in the comment section below. If you agree, we also want to hear from you too!