Who says heavy-duty sounds only come in big, expensive packages? Three solid-state challengers prove size isn't everything.
Crate Taxi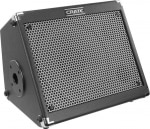 The closest the Crate Taxi will get to a studio is the sidewalk. But from there it can surely hold it's own against the cruelties of the street life, with its rugged wedge-shaped cabinet and 30-watt RMS solid-state amp.
Powered by a rechargeable internal battery, 12-volt adaptor and optional cigarette lighter adapter; this is an amp designed for quick road trips, block parties and pre-concert tailgate jams.
The Crate Taxi features an eight-inch speaker, piezo tweeter and three channels, one dedicated to microphone use and another whose stereo jack functions as an instrument input, an effects loop or a CD player insert.
The guitar channel offers variable, switchable gain as well as a three-way eq. None of this adds up to sonic purity, since the Taxi favors either clean or very high-gain settings. But it does create one hell of a sonic assault, making the Taxi a must-have tool both for street smart performers as well as back-to-nature jammers.
Vox Pathfinder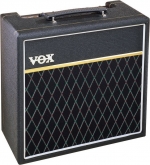 From its eight-inch Vox Blue Bulldog speaker to its pinstripe diamond-pattern grill, the Vox Pathfinder is a finely crafted paraphrase of the original practice amp Vox manufactured in the U.S. from 1964 to 1969.
Pumping out 15-watts from its solid-state circuitry, the Vox Pathfinder actually mimics the Class A tube circuitry of its forefathers. A warm bottom supports an intricate, woody midrange, and the highs reveal both detail and compressed chime in response to pick dynamics.
Kick in the gain boost and the Pathfinder produces totally over-the-top fizz and splat. The tremolo offers both speed and depth controls, and while the effect is not astoundingly deep, it has a unique off-kilter wobble. With jacks for an optional footswitch that controls tremolo and gain functions as well as line and headphone outputs, the Pathfinder is a versatile studio tool as well as a dignified recreation of the class A classic.
Danelectro Nifty Fifty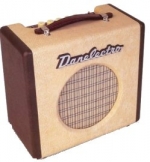 The Nifty Fifty recreates a mid-century model that never existed in the first place. In fact, Danelectro never made an amp that looked remotely like this, but they have done so now, and very well. With its butter-soft two-tone leatherette, cream-colored knobs and subdued plaid grille cloth, the Nifty Fifty maintains a vibe that's distinctly Eisenhower era.
The sound, on the hand, could only be from the late Nineties. The Nifty Fifty recreates a solid Class AB tube tone when clean, but turn the wide-sweeping "dirty-sweet" knob to the right and the sound brightens considerably. While its eight-inch speaker and 15-watts of power never approach chest-thumping territory, the amp's overall gain structure and tonal response is assuredly hot. If they'd thrown in extension speaker and line-out jacks, the Nifty Fifty could be another shoe-in for the studio toolbox. As it stands, this tiny titan is already guaranteed a place in the basement rec room.