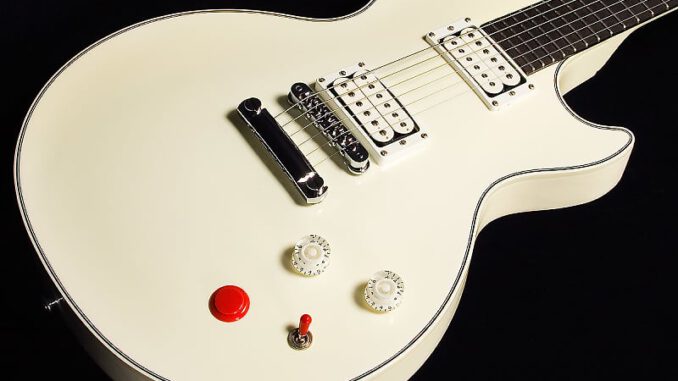 The guy has played with everyone. From Les Claypool to Guns N' Roses, the illustrious Buckethead (aka Brian Carroll) has done a whole lot in the past decade. Commonly known for his usually unusual stage costumes and wicked guitar playing ability, he's dually recognizable as toting around a different style of Gibson Les Paul when he plays. Gibson's finally given him a proper signature axe that's somewhat affordable.
The guitar starts off with Buckethead's signature oversized chambered body, making it a bit lighter than most LP's. The body, finished in satin white, is pretty stunning. The long, 27-inch scale gives you baritone-like abilities, really allowing you to crank out some dirty low end when necessary. One of my favorite cosmetic features of this guitar though is the fingerboard comprised of torrefied maple. It doesn't have fretboard markers, which makes it look cool, but if they're not on the top then I feel it would take a while to get used to. Finish it off with the standard Gibson tune-o-matic bridge and stopbar tailpiece and you've got yourself a Les Paul.
Aside from the 496R and 500T pickups, the arcade-style kill switches are the crown point of Buckethead's custom innovation on the Les Paul. I think the idea of a kill switch is one thing, but the arcade button style switches are really neat.
Unlike the Buckethead Signature Les Paul, this new model, a studio version, costs roughly $1,350 less than the Les Paul Buckethead Signature version. I think this is a great move by Gibson, to make more affordable guitars for those less fortunate. Even at that rate, it's still a $1,229 guitar, which is actually quite expensive. I mean, if you're going to be able to afford a $1,200 dollar guitar, I'm sure you can squeeze out and save the extra thirteen hundred to get the tricked out Gibson Les Paul Buckethead, but who am I to say? I've said it once and I'll say it again; guitars in this price range are just a bit absurd to the majority. And I'm in the majority, if you couldn't tell by now.
Fans of Buckethead will rejoice in this axe because of its white, signature Bucket look alongside those awesome red killswitches. Fans of the baritone style guitar will also enjoy it because of the extra long scale, really allowing you to get the job done. It's a cool guitar, but I'm not sure I'd ever be able to rationalize spending $1,200 on a guitar unless it's something vintage starting from at least the 1970's. Just doesn't seem worth it to me.