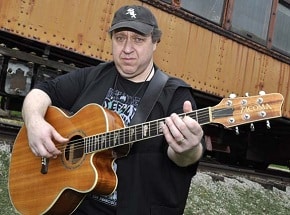 All of us guitar nuts are always trying to figure out what is going to be the next hot instrument, especially in the collector category. I, and many others, can tell stories about owning cool but under-the-radar pieces that we sold for pennies before they got hot in the market. If you want to see me sweat, ask me about my Supro amp collection I had in the mid-90's. There are still some great items out there that are possible to get a hold of and my Future Vintage articles here on Gear Vault are designed to help you identify what these things are.
One thing you might want to keep one eye open for are acoustic guitars made by the Tacoma company before they were purchased by Fender. Tacoma Guitars made a lot of really cool American guitars in its original period during the 90's and they are some of the best values in domestically produced acoustics and acoustic/electrics in the used market. The company made a variety of models (Chiefs, Road Kings, the Thunderchief acoustic bass) in a variety of styles, some traditional and some a bit more modern.
I personally own a Tacoma acoustic from this period, a JK-50 Jumbo, and it is hands-down the best acoustic guitar I've owned. The JK-50 is a cutaway jumbo with a spruce top, koa back and sides, a Fishman Prefix Plus pickup system, and some of Tacoma's' fanciest inlay work. Fancy though it may be, the JK-50 has been my main gigging acoustic for about 15 years and I can't imagine an unplugged gig without it. It produces a rich, full acoustic tone thanks to the large body size and has a slim neck like an electric that makes lead and rhythm playing easy and comfortable. The JK was the top Tacoma when I bought it and retailed for around $1800.00.
I always keep a watch for these on eBay and at guitar shows and, a couple years ago, would see them on dealer tables for $800-900 with their original case. I recently did an eBay search for the guitars and found one going for $2000 and one for $2500. I am honestly not sure what is driving the price increase, but I know koa wood is getting scarce and, in this climate of non-stop globalization, the 'Made in the USA' label carries more weight than in years' previous. The window to get one of these at a reasonable price may be closing for some, but there are a lot of used Tacoma acoustics out there and they are all very good instruments, so get out there and start hunting. Watch this space for more Future Vintage stuff to long for and obsess over. Oh, and, if you find something cool, give me a call.
Fender Tacoma Acoustic Guitars