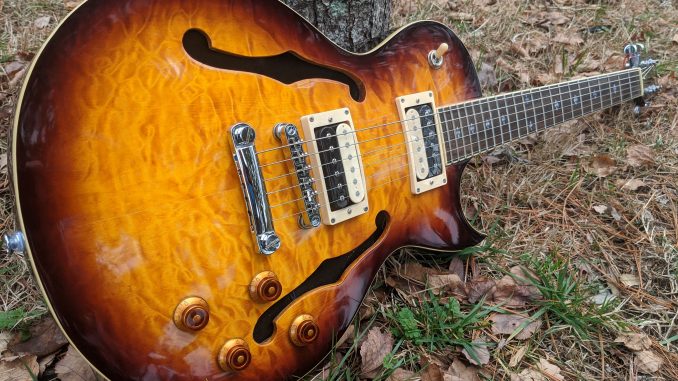 I decided to pull the trigger on a Xaviere guitar XV-550 so I can write to YOU, my Gear-Vault readers, an accurate hands-on review about my personal experience with the Xaviere XV-550 Gutiar from GuitarFetish. Due to some online controversy regarding these guitars, I decided to purchase this guitar out of my own pocket so you can rest assured there are no biased or sponsored opinions in this hands-on review.
Xaviere XV-550 Review – Is It Worth The Money?
If you are not familiar with Xaviere guitars, the brand is owned by Jay Abend and sold exclusively through his website at GuitarFetish.com. His guitars are inexpensive and are known to have mixed reviews around the internet… from guitar message forums, Reddit, blogs, review outlets, and etc.
Who are these guitars catered to? Beginners? Hobbyists? or Mid-level to Pro Musicians? Clearly, at the price point, I'm going to go out on a limb and say Beginners and Hobbyists.
I am giving each sub-experience a grade, but I think the overall grade is between the (C- to C+) range. I like the XV-550 that I purchased and for someone like me, who likes to work, set-up, and modify my own guitars, it has been a fun experience so far!
These guitars might not be for everyone, however. This fact partially reasons why I graded it the way I did. If you are interested in buying an inexpensive guitar, then reading this review is for you.
If you have your own (positive or negative) experience with Xaviere guitars, I would LOVE to hear about it in the comments section below!
Ease of Online Order (Grade: C)
GuitarFetish.com only sell their instruments online, they don't have a brick-and-mortar storefront as far as I know. Their website seems primitive and the way they display their guitars for sale leaves a lot to be desired. NOT very well categorized and NOT easy to navigate.  After scrolling around their website for a while, I FINALLY found the instrument I wanted to buy and added to my shopping cart. Despite the rough start, the check out process went flawlessly!
Shipped to My House (Grade: B)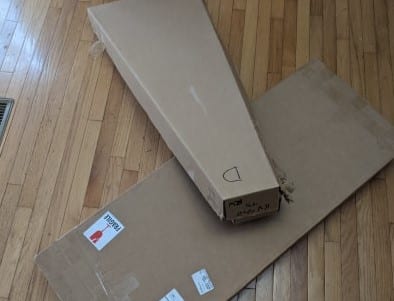 Quick shipping — the guitar was shipped double boxed and well packed. Exactly what you'd expect from any reputable eBay.com or Reverb.com seller. You can see the box it came in is just your standard low-quality wedge box, no printing on it what-so-ever – nothing exciting. Thankfully the outer box they shipped it in was well packed and sturdy. Good Job, Guitar Fetish!
The wedge box (inner box) has black marker written on the top to apparently help identify its contents for the warehouse workers. The XV-550 was wrapped in a cheap padded foam bag… and it did the job! The guitar arrived with no shipping damage.
Returning It (Grade: B+)
It came with a packing slip including detailed printed information for easy return instructions if you chose to return the instrument for whatever reason such as finding any unacceptable defects.
Guitar Fetish does not charge a restocking fee. If sent back "as-new condition" within 10 days upon delivery, they'll give you a cash refund — They do not refund shipping. If you are within a 60-day window and decide you want to return the guitar, they only offer in-store credit. Their return policy seems extremely fair.
First Inspection (Grade: B)
At first glance, the guitar appeared 'nice' and 'beautiful'. It's a semi-hollow body XV-550, so it was noticeably lighter in weight. The volume and tone controls (pots) seem nice and stiff turning them back-and-forth — just the way I prefer them.
The guitar looks exceptionally nice for a $240 piece of musical equipment. It came out of the box clean and polished — you'd be surprised how many finger-printed smudged "new" guitars that have been shipped to me over the years.
I did notice some insignificant flaws that you'd expect from any inexpensive guitar; craftsmanship and some minor fit-and-finish flaws that you'd even find from bigger manufacturers such as Epiphone, RondoMusic.com (Agile Guitars), and SQUIER (Fender).
On Deeper Inspection – Guitar Setup Out of the Box (Grade: F-ail)
The guitar is essentially unplayable out of the box or at the very least not comfortably. Any Epiphone or Squier or equivalent manufacture is setup much better from the factory. The guitar sent to me needs some MAJOR work. More work than just your typical intonation, action, and tuning. The fret edges are sharp and need to be sanded, rounded, and polished as well.
The nut is extremely high and needs to be removed and trimmed down. As you can see in the picture below, the finish below the nut has a chip was taken out — a flaw from the factory.
You can also see how tall the nut is from the fretboard. I inserted a nickel in the first fret to show the gap. There was still space, as you can see, the coin fit so loosely it slid down. The solution here would be to remove the nut completely, trim it down a few millimeters, and glue it back on. Nothing too complicated for a handy guitar hobbyist.
The neck does appear to be perfectly straight and in good order. I'll find out more when I set up the guitar to my liking.
Guitar Strings (Grade: F-ail)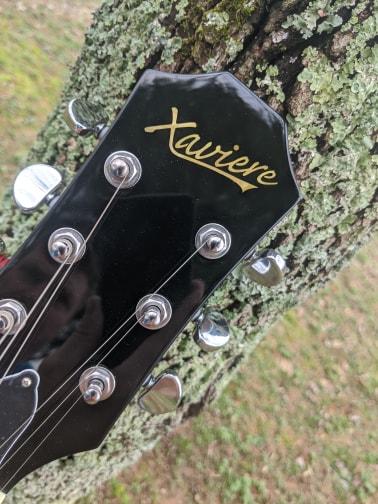 No surprise here: As you'd expect from any cheap guitar, the strings suck! These especially suck due to the grimy oily residue that makes a mess all over your hands when you make contact. I suspect they do this because of how corrosive/humid shipping conditions are from China by sea within a shipping container no less. Don't want them to rust!
My expectations were set low for the strings on this guitar before I even unboxed it, so this is a non-issue for me. If you buy a guitar from Guitar Fetish, expect to replace the strings upon arrival to get the most out of your new guitar. Better yet, put new strings on it after your initial set-up.
Hardware & Electronics (Grade: C)
The hardware is what you'd expect from a $240 guitar. The tuners feel cheap. The bridge on this guitar is okay and usable, but cheap. The pots feel tight and the electronics don't make any crackle sounds through the amp when switching the toggle back-and-forth or turning the pots like a madman… which is AWESOME for an inexpensive guitar! The pickups are not my cup of tea but are usable.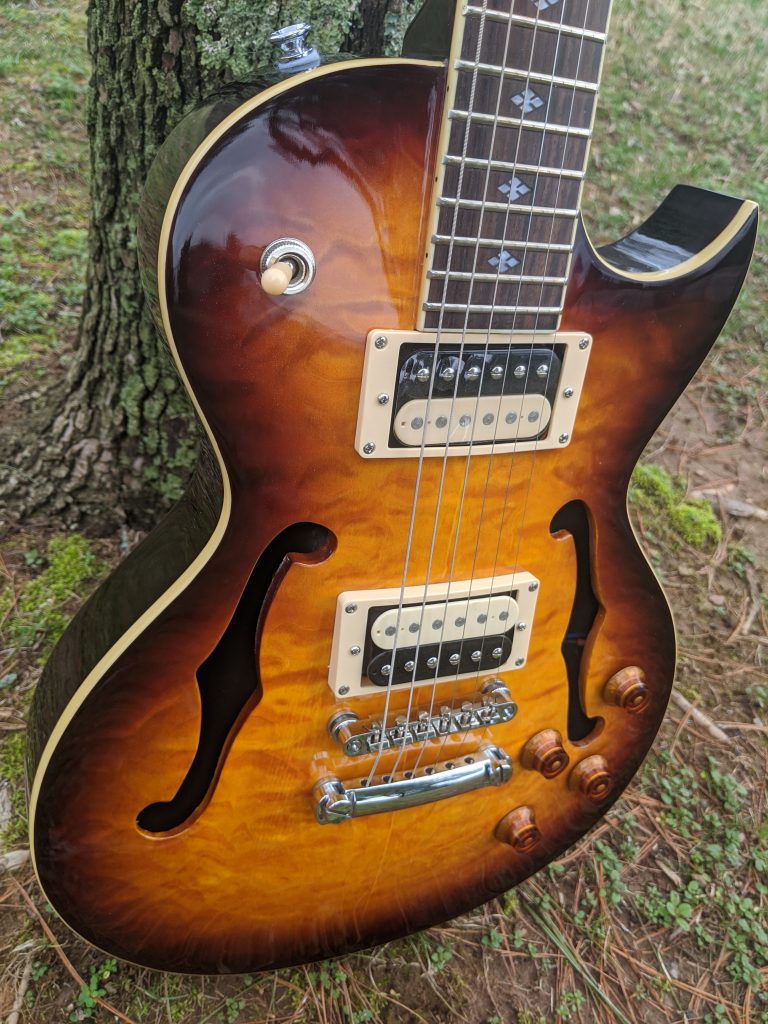 Overall, the hardware and electronics are decent. At the writing of this review, I am yet to setup the guitar for the best playability so the jury is still out. Maybe it all goes to shit but I'm confident everything is going to be just fine.
Beauty of the Guitar (Grade B+)
The Xaviere XV-550 semi-hollow has a nice carved quilt maple top in Tobacco Sunburst. You can see the line where the two halves of the maple butt together. I honestly wish it was finished a bit better there. Overall, it looks really nice.  To be fair, this isn't a $3,800 Gibson Semi-Hollow —  it is a $240 China made guitar.
The binding might have some slight imperfections but you have to really look for it, so it's a non-issue really. The headstock is generic with the "Xaviere" logo. The fret inlays are neat and have a unique shape to them. Keep in mind, they are likely plastic which is standard on an inexpensive guitar. The binding up the neck IS definitely a nice touch!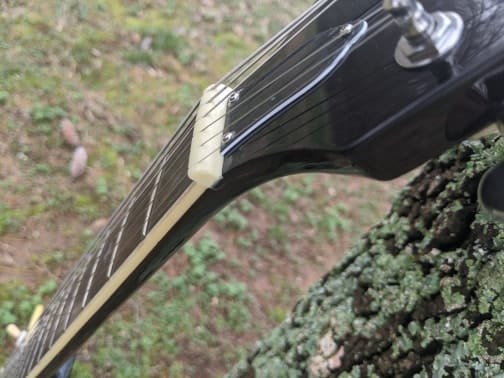 Playability & Sound (Grade: D)
The guitar plugs in and works just fine! It sounds good, though not dynamic like you'd expect from a semi hollowbody. It doesn't have any feedback noise or crackles in the pots and switches. It has decent electronics (personally sterile sounding to me.) Just doesn't seem to have a lot of tonal range I would hope for out of such a beautiful guitar.
The intonation on this instrument wasn't as bad as I was originally expecting. The D string needs some attention. It is set too sharp.  Overall, not too bad! As soon as I fix the action, the intonation will probably be thrown all out of whack. So there goes that… lol.
The action is terribbbbbllle! It needs some major work and I intend to remedy. I was thinking about having a "guitar-giveaway" after the review but I can't give it away in its current condition. It needs some adjustments. The nut needs to be completely removed and trimmed down. I seriously doubt I'll put the cheap nut it came with back on it, might as well install a bone nut. The nut on it now is plastic and is not only too tall but slightly misaligned. Not so bad that I'd categorize this guitar as a "blem" ('blemish' for those who don't know guitar lingo).
At the 12th fret I could stack TWO quarters in-between the string and the fret. That's just ridiculous by the lowest of standards!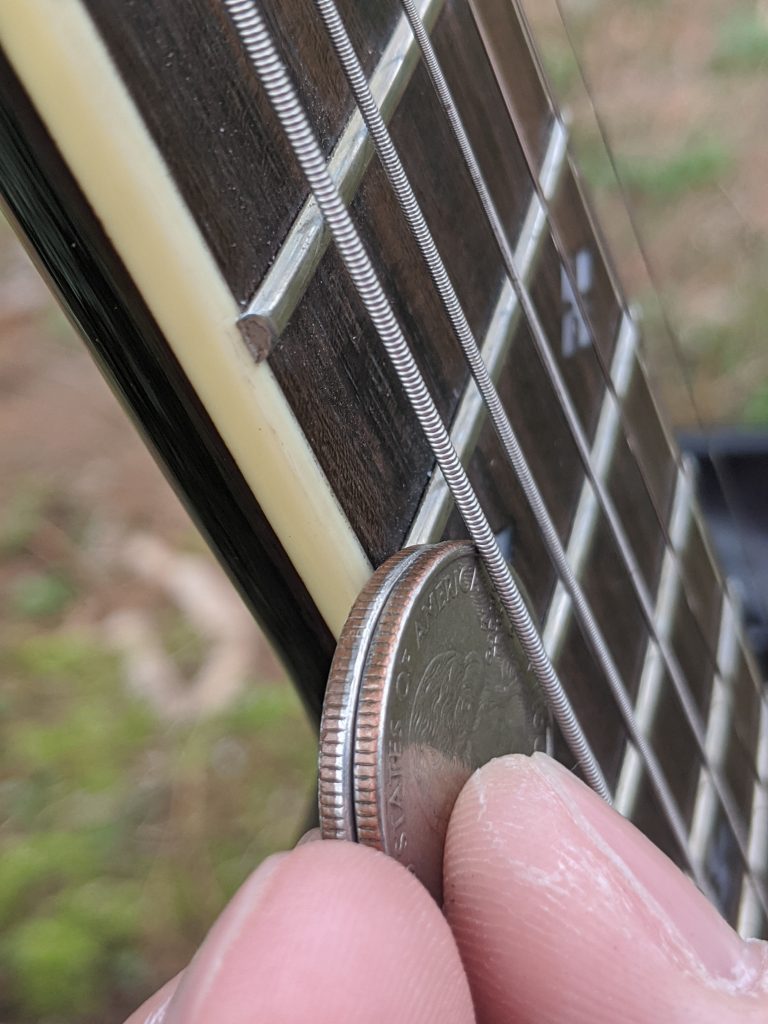 The frets feel okay while playing, but they need some love. When you rub your hand down the sides of the neck of the guitar, you can slightly feel the jagged sharpness. If you buy a GuitarFetish guitar, make sure you also place an order over at Stewmac.com for some fret files, sanding block, and fret polishing supplies. You'll save yourself some time and make the guitar really good. I for sure think this guitar is worth putting some effort into.
Potential Upgrades
If you are investing the time to file and polish the frets, then you might want to put some money into this axe. The first thing you might want to consider is upgrading is the tuners.
The tuners on this guitar leave a lot to be desired. They are functional and usable but they are definitely the next weakest thing about this guitar.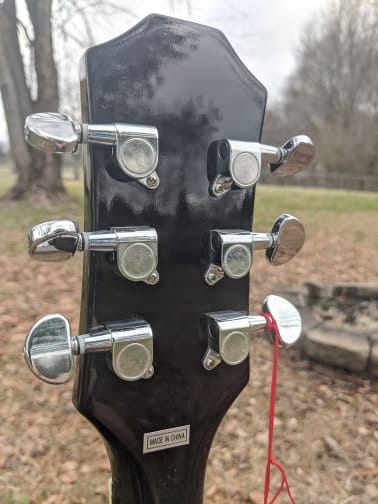 The pickups are okay and I think GuitarFetish is known for their decent pickups. Personally, I am not really a fan. They don't have much range and can't really reach the sound I am looking for. I am a HUGE Seymour Duncan fan and think a set of Vintage Humbuckers, like the Seymour Duncan '59 (Neck) and Pearly Gates (Bridge), would go a long way in making this guitar really come to life.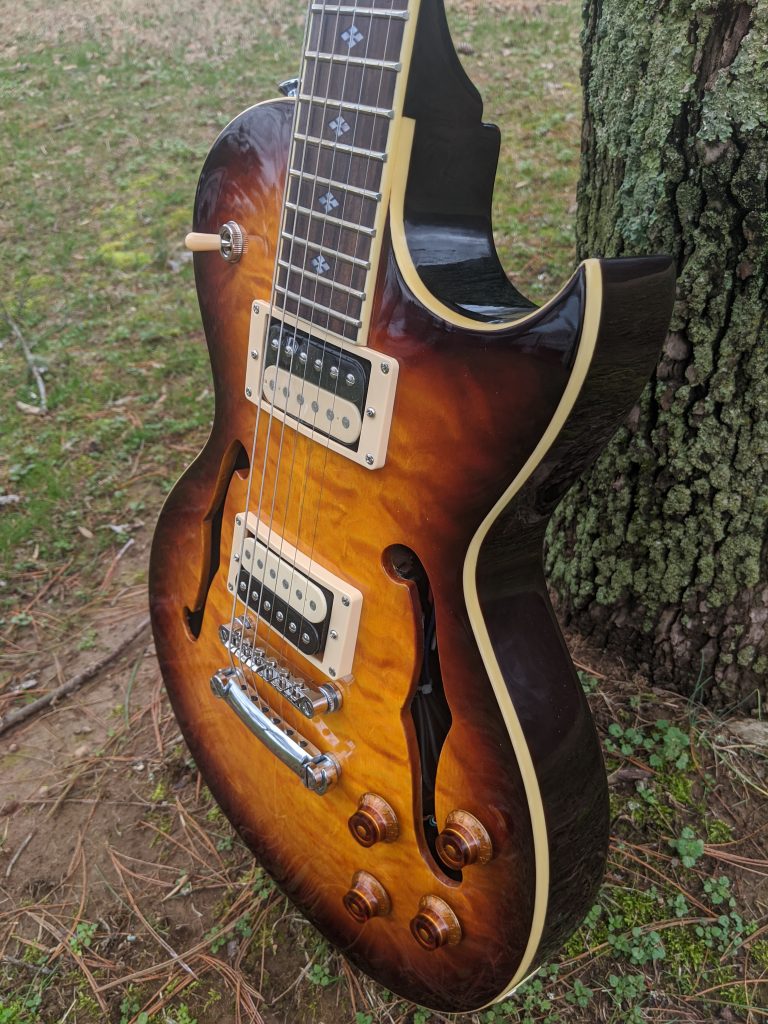 As mentioned earlier, the guitar Strings need to be upgraded. I would recommend throwing on some GHS Boomers and call it a day. I think those would rock! I would even consider going with a set of 11-gauge for this Semi-Hollow Body guitar. If you want to invest in some more expensive guitar strings, you might go with Elixir Optiweb or Ernie Ball Paradigm. I've always been a Boomer fan and no….they don't sponsor me.
After Playing The Guitar: Conclusion
Despite the minimal price point of a $240 dollar Chinese made guitar, you might do better spending more money upfront and going with a Korean Made Epiphone. You'll save some money on not having to do a setup right away. IF you can do your own setup, then save some bones and go Xaviere.
This is a great hobbyist guitar, perfect for someone who loves making a good barebones axe even better. It's fun, it's pretty, the actual quality of wood looks to be crafted just fine. It sounds good and is a step up from RondoMusic SX guitars but a step down from RondoMusic Agile guitars. I just can't get past how BAD the setup is out of the box. I think if GuitarFetish had the resources to set up each guitar before shipping, they'd be next-level guitars. I am guessing this one was inspected at some point before being shipped but I don't know.
If you are a beginner,
I would NOT recommend this guitar to YOU. I am a firm believer that a beginner should start with a mid-level (albeit cheap) guitar set up correctly and ready to play – Go to your local mom and pop guitar store and play a bunch of guitars. Don't be afraid to ask them for help. Most mom-and-pops will even set up your guitar for you for free if you buy from them!
Understandably, most beginners don't know what a good guitar feels like, which in turn, can discourage you from learning guitar. It is IMPERATIVE to have a good setup guitar to learn on. I can't stress this enough. Go to your local mom-and-pop guitar store and give them your business. It's great to shop local and they will go above and beyond and make sure your guitar experience is positive!
Why Put $ into a Cheap Guitar?
If you are a guitar junkie and love playing and working on guitars, then Xaviere is for you! At this price point ($240), it can't be beat if you are capable of doing your own modding / setup work. There's a huge guitar culture of folks out there who love working and upgrading their guitars to "make it their own". I am one of those people, so I get it!
Just set your expectations appropriately. Don't expect Xaviere to be on the same level as Epiphone, Agile, or any other $400 to $600 Les Paul -style guitar on the market. You might consider an equivalent guitar in the Harley Benton Les Paul – Watch The Tone King video demo on that.
3 Things I hate about the Xaviere XV-550 Guitar
The setup was the worst I've ever experienced in 30 years of playing guitar
The fit-and-finish had some flaws that should have been caught before shipping
The Strings that came on it left my fingerstips black after playing it
Nitpicky stuff for an instrument in this price range. But I think for the money, you can do better. If this is a hobby guitar, then I think the aforementioned stuff is a none issue.
Final Verdict: Beautiful Guitar that Needs Love…
Other Articles of Interest on Gear-Vault about Xaviere Guitars:
Are Xaviere Guitars Junk?