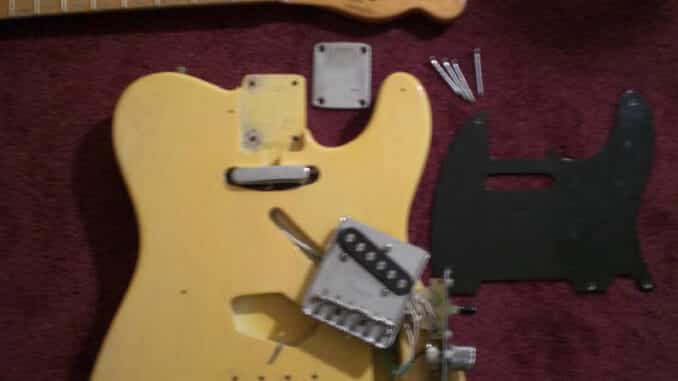 It's easy to get bamboozled if you're purchasing a vintage Fender guitar. Because these instruments are bolted together, their parts can be swapped, stripped or replaced faster than you can say "rip-off." A buddy of mine who has been in the vintage game for years recently estimated that between 15 and 20 percent of the "Sixties Strats" out on the market are bootlegged. And if that number sends a shiver down you fuzzy fretboard, the number of "all-original" Strats that feature replaced pickups, pots, bridges and other parts is even higher.
By and large, G-V has found that vintage guitar dealers who have a good reputation have earned it. Likewise, if the word on the street is that a certain seller is not on the up and up, he's probably guilty as charged. Avoid him like the plague.
In short, proceed with caution, and get educated before you reach for your wallet. Here are a few helpful tips to get you started.
1. Where early Sixties "slab-board" Strats are concerned, a lower serial number does not necessarily translate into an older guitar. In the old days, Fender factory workers grabbed neck plates (that's where the serial number on a Strat is) out of a barrel in no particular order. Always "pull" the neck and check the date that's either stamped or penciled in there.
2. Much to Fender's continuing dismay, it's still pretty easy to score vintage replica headstock decals if you know where to look. Many bootlegs do not have the tiny patent numbers on the decal; a real Sixties Strat will have at least to.
3. in the early Sixties, Stratocaster and Jazzmaster necks shared scale and dot configurations. Forgers will sometimes cut Jazzmaster headstocks down to size, slap on a Strat decal and attach them to a replacement bodies.
To check for this, unscrew the neck and look at the stamp under the truss rod. It will consist of a number, followed by a month, a year and a letter designating the neck width. The first number is the model code: Strats have a "2," Jazzmasters have a "4." If you pull the neck off a Strat and see a "4," it's converted Jazzmaster neck. Run like hell.