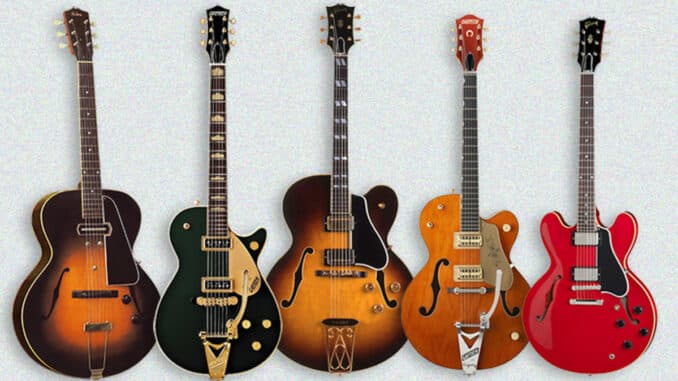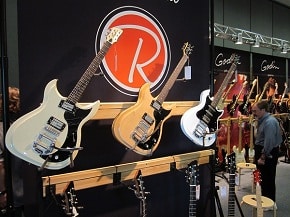 In the past decade, Godin Guitars have been making quite a name for themselves with their beautifully designed guitars becoming more and more popular each day. This isn't only because of their looks, but functionality as well. This year, Godin overwhelmed Winter NAMM with many new, affordable instruments.
The first guitar that I couldn't stop looking at is the all-new Richmond Empire. It's a finely made instrument from the silver leaf maple body down to the low-noise single-coil in the neck and humbucker in the neck. This combination of pickups is really appealing as you're able to get that sultry, warm jazzy neck sound that Godin's are known for. Then, in a flip of a switch, you're tearing it wide open with that raunchy beef that a humbucker will deliver. The switch is a three-way, so blending between the two pickups is another way to broaden your tonal horizon. The coolest part about this guitar is its price tag. For an affordable $639.00, the Richmond Empire can be yours. What a cool opportunity to own a quality instrument at a quality price!
The next series of guitars new from Godin this year is the Icon Series. The first is the Icon 2 Classic. This baby is all rock with one Godin humbucker in the neck, and a Seymour Duncan humbucker in the bridge. What's unusual about this pickup scheme is that it utilizes a five-way pickup switch. That's something pretty rare with a dual humbucking setup. Paying $1,245 for this guitar isn't a bad price.
What really catches my eye is the Icon 2 Convertible. This axe screams "play me!" It stands out not only because of the sexy natural and sunburst finishes but because it employs two Seymour Duncan P-rail pickups. If you don't know, these pickups are comprised of a P-90 and a single-coil rail pickup. This matched set allows you to get the raunch of a Les Paul, the clean bell tones of a Stratocaster, and the smooth sound of a P-90 equipped Goldtop. At a modest $1,395, you're paying for a quality instrument.
The final of the bunch is the Icon 3. This axe is similar to the others but boasts three lollar P-90 pickups controlled by a five-way switch. You can safely assume this Godin is going to deliver the velvet P-90 tones and shimmer in the light of the stage. This instrument also goes for $1,395.
What's interesting about this new line of Godin guitars is that they make use of the all-new High Definition Revoicer. Simply put, this turns your passively wired guitar into a guitar with active pickups. This ups the possibilities from five different sounds to ten diverse tones, all at a press of a button.
Godin is doing something right, and they've got me interested. I can't wait to plug one of these babies in and take it for a ride. I know I won't be disappointed, and with the affordable to modest prices, I'm sure you won't be either!
Godin Guitars