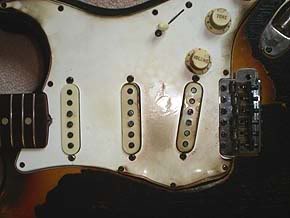 Jimi Hendrix loved to put on a show, and boy did he! He was widely known for his pyromaniac stunts, setting at least 3 of his Fender Stratocasters on fire at live shows. This wild act of expression was extremely controversial back in '67.
On March 31, 1967, was Hendrix's first alight a guitar-stunt. He famously covered his Fender Stratocaster in lighter fluid and set ablaze. This guitar sacrifice was at Walker Brothers farewell tour in Finsbury Astoria, London. Jimi Hendrix blitzed the UK audience with a landmark live performance on this night.
This was Hendrix's first noted torching experience, which secured him a place in rock history.  At the same time, the pyromaniac was forced to go to the hospital for going a bit too far, to treat his hand burns. And the guitar, slightly damaged along the neck and pickguard, was recovered by his staff.
The guitar, a 1965 Fender Stratocaster, was for decades thought lost. The guitar eventually ended up in the hands of Hendrix's press officer, Tony Garland and stored in his parents' garage in Hove, East Sussex. The charred Strat was unearthed last year by Garland's nephew, still showing the burn marks from that famous Finsbury Astoria show.
The instrument is expected to fetch $1.5 million when it goes on sale on September 4th, 2008. The guitar is among a range of rock memorabilia to be auctioned by the Fame Bureau in London.
"When Hendrix set this guitar alight it marked a watershed in live performance," said Ted Owen, director of acquisitions at the auction house.
"He raised the bar of what could be expected and paved the way for a series of imitations and pastiche that exist to this day."
Hendrix, who died in 1970, burnt two guitars on stage — he repeated the stunt at a festival later in 1967 — but the one to be auctioned is the only example that survives intact.
A previous auction of a Hendrix guitar, known as the Woodstock Stratocaster, fetched $1.8 million.
Jimi Hendrix Sets his Strat on Fire