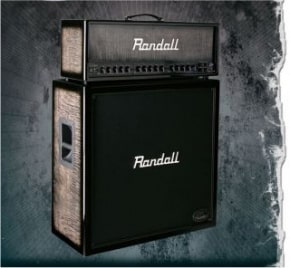 Randall knew what they were doing when they decided to collaborate with the guitarist from Metallica, Kirk Hammett to create the RM100KH Limited Edition Half Stack. Hammett is known for his legendary guitar work, leads and the sounds he is capable of manipulating, the hype surrounding the new series of MTS amplifiers. Hammett helped design and perfected the RM100KH.
In the past, Hammett required several amps to create the tone he was always after. Hammett used various models of amplifiers, like the Marshall JCM800, Mesa Boogie Mark IIC+, Mesa Boogie Dual Recto, Fender Twin and the Roland JC-120. That is why the Randall RM100KH amp and cabinet from Randall are so coveted. The cabinets are capable of creating the volume sweep that so many players, including the tones that Hammett himself chases.
Each MTS Module is loaded with two 12AX7 preamp tubes. The KH1, KH2 and KH3 play a huge role in making Hammett's signature model head sound so amazing. Allowing you to control the gain / volume mix from each MTS preamp to get that "Enter Sandman" — "Master of Puppets" to "Unforgiven" true blood Metallica tone.
KH1 Kirk Hammett's Classic clean tone Preamp MTS Module
KH2 Based on Hammett's legendary "Vintage Rhythm" tone
KH3 Based on Hammett's Modern High-Gain tone
Though you can easily replace the power tubes with a user-friendly power-tube bias, that doesn't necessarily mean that you are giving up any of the power or control of a full blown valve amp, rather, what you'll notice is a perfectly loud Metallica tone that is easy to EQ and shape to your own sound.
The RM100KH 4×12 cabinets were created with much thought put into each tone, getting a full range of tone has never been easier. Beautiful solid maple cabinetry, (maple wood enhances the sound) chrome hardware, and a custom paint job this amp will rock your world! With the three channel amplifier head it is possible to run your amp volume high as you increase to the high-gain tones and then carry that over as you drop-tune your guitar without losing any definition or tube drive from the valves. You can get that from other amplifiers, just not as easy as the Randall MTS.
Randall made the best choice in packing 100-watts into these versatile amps, At full volume they create ear bleeding noise—unless of course you really don't want that for studio recording purposes. The power section of the amp holds four high quality 6L6GC tubes which deliver those distorted power blends and tube-sag as mentioned earlier. Chosen for their power output, the tubes deliver a more even tone on the low-end but are overall a versatile choice.
In addition to all the features that already make this series a signature line, there are a few more selling points to sway your opinion. The KH1, KH2 and the KH3 have two effects loops, both parallel and series. Experimenting with your signal can be fun, and sometimes brings about the creation of some really awesome sound, but for the most part there is a lot of learning involved. With the addition of both effects loops you take out a lot of the guesswork without giving up the quality of your sound and still gaining a lot of control. At the same time there is still the opportunity to experiment with your amp, through the signals and the effects.
All this comes wrapped up in a beautiful cabinet that might just be too nice for the abuse the amps are bound to go through. Most amps today can't even come close to everything Randall and Hammett cooked up, they really do not leave much to be desired. All you need now is time to perfect your own signature guitar riffs and try them out onstage. But a pricey one at a couple grand.
Randall MTS RM100KH Video Demo