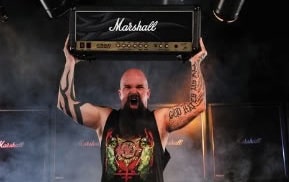 When you take the amp that has been the source of pure rock and roll crunch for decades and mix it with one of the most powerful metal guitarists ever to unleash havoc on this planet, what do you get?
Give up? How about Marshall's 2203KK. What's the 'KK' for? Why, the loveable Mr. Kerry King from Slayer, of course! Did I say 'loveable'? OK, perhaps not so much, but this amp sure is!
The 2203KK is essentially a modified JCM800, tweaked to Kerry's specifications. The guys at Marshall took his threats… um… I mean, suggestions, and incorporated some very awesome features.
The 100-watt head features a three-band EQ, a trio of ECC83 preamp tubes, four KT88 power amp tubes, and comes in a manageable 41 Ibs. Judging by the sound, you might expect the amp to weigh far more than that. The amp also adds an extra set of controls labeled 'Gate' (which is a noise gate) and 'Assault' (which lets you adjust 'Intensity'…which this amp has plenty of). Of course, to kick in these features, you have to turn on 'The Beast' (which is how the activation switch is labeled).
The 2203KK also features some very nice tribal artwork on the faceplate and cloth, which is designed to match the tattoos on Kerry's head. Nice.
According to Kerry King, this amp is "the most perfect plug-and-play hardcore amp ever conceived". If you are looking for instant gratification from the metal tone department, he's absolutely correct. If you want to get Kerry King's signature bludgeoned-by-metal tone, this amp will do exactly that… without breaking a sweat (or your arm).
The Marshall 2203KK JCM800 Kerry King Signature amp head lists for around $1900.00 new, but can be had for less with a little bit of searching. I'm putting this on my wish list.
Marshall 2203KK JCM800 Kerry King Head