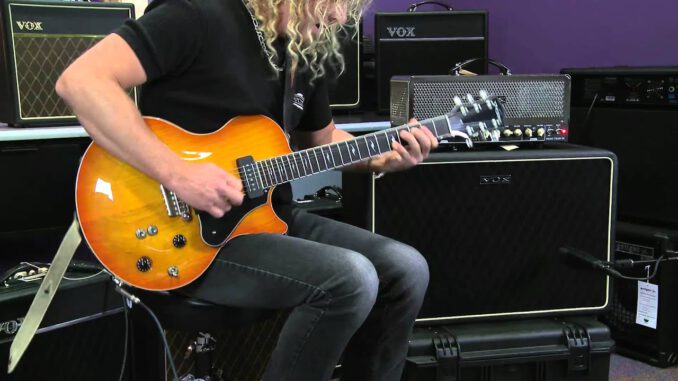 Vox has always made good quality guitar amplifiers since the 1950's. Beginning with the AC15 and AC30, many guitarists made it clear that Vox amps bring a high-quality sound. This is because of their simplicity, and Vox has continued to keep that minimalism alive with the Night Train NT50.
The Night Train is a continuance of the original Night Train 15-watt amp that debuted back a few years ago. Aside from the upscale of 35 more watts, the NT50 adds a second channel. This channel, dubbed the "girth" channel, acts as a distortion channel. What's really cool though is that Vox can't stress enough how this is a high gain stage and not just a gain stage. For players like me, this gets me very eager. For a company so superior at creating a superb tube tone to provide a high gain channel is something. Vox is not known for its high gain sound, and this gets me excited to try the amp. And the name "girth" is just…gnarly. Gnarly awesome.
Most amps nowadays contain either too many effects that it overwhelms the user. Most Vox amps are exactly the opposite. They always keep it simple yet deliver true tube tone that's a signature sound other amps can't always provide. The tone of Vox's is something some players swear by because they give such a good clean sound, and also a rich dynamic overdrive when cranked.
The clean channel of the Night Train includes the typical bright switch the turn on the chime. It's also has something called the Thick switch. This bypasses the EQ and increases the gain for a more broken up sound. Though, why not just turn up the gain and master volume? I wish we could all play as loud as we wanted to, where and when we wanted to. Aside from the master volume control, there's a master Tight switch which cuts the low end to tauten the overall sound. It could be cool, but I'm just not sure.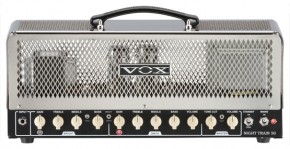 The exterior of the amp is classically handsome. There's no surprise here because it's a Vox. The metal grill complements the grays and blacks of the rest of the amp. The beige knobs have the classic boutique look. The mercury of the EL34's glows through the mirror-finish fortified front. In a dimly lit room, this baby's going to look sweet.
From what I've seen so far, I'm impressed by the Night Train NT50. The single sound clip I was able to hear in the video below is neat, but I'd like to hear what the wide range humbuckers of my Telecaster Deluxe sound like through this beauty. From what I could tell the Night Train delivers that classic Vox tone. I think that's all that matters.
Vox Night Train NT50 Audio Sample