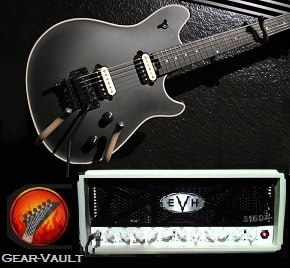 The NAMM show in Anaheim brought many new and innovative guitars and amps to a music scene that has been evolving at a dizzying pace over the past decade. Not open to the public, this inside-baseball convention caters to those who make their living selling instruments and equipment to the unwashed masses, so those who attended the show were probably quite ebullient about the new EVH Stealth and the EVH 5150 III mini-amp head.
EVH 5150 III Mini 50-Watt
Start with the amp. Many who already have the 100-watt version of the 5150 III (described as being suited for playing football stadiums from a scaffold) were ecstatic to hear that a 50-watt version was available, especially with three channels. While it is extremely versatile, most players who want it for gigs will set two of the channels (due to the fact that two of them share one knob) to their desired '80s or blues or metal sounds, and then do whatever they want with the other channel.
Unlike the 100-watt crusher, the new 5150 III Mini-Amp is billed as being a good amp in any setting, "from the bedroom to the Forum". The tube-driven head definitely delivers the goods, but then there's the matter of what kind of a cabinet you're plugging into. However, if you really want "Eddie's sound" (as many guitarists do), you're going to have to buy "Eddie's speakers" to go with the amp. Between the two items, one will be shelling out (or financing) over two thousand dollars.
EVH 5150 III Mini-Amp Video Review
EVH Stealth Guitar – Black
And that's a veritable bargain compared to the EVH Stealth guitar (released alongside its sister axe, the Wolfgang USA Custom). The Stealth, with its flat black paint job, fat white binding and ebony fretboard – a first for an EVH guitar – give it a businesslike look. The zebra EVH humbuckers, the white dot inlays (as opposed to abalone or MOP) and the decal on the headstock, along with the binding, provide tuxedo-like trim. The body is true to EVH form, drawing on its stylistic forebears from the Peavey and Ernie Ball shops.
The guitar's guts are where you get some money's worth out of the EVH Stealth. Eddie likes bright, loud pickups (who doesn't?), and combined with low-friction 500k volume pots and high-friction 250k tone pots, they really cook. The compound-radius fretboard, on top of a maple neck that is dual-reinforced with graphite rods, makes it 12-year-old Scotch-smooth under the fingertips.
At 24-3/4 scale, and with a set neck, Eddie wanted the nearly two-inch thick Stealth to reflect the short electric guitars of the late 1950s; mission accomplished, particularly where playability is concerned. Steel medium-jumbo frets add to the desired sound. Along with the EVH Floyd Rose tremolo and black Schaller 14:1 tuners, the Stealth wants to effuse an austere look. With a three-way switch and just one each of volume and tone knobs, it also has austere controls. In fact, the only thing that doesn't appear to be modest about this guitar is the price tag: $3,000. On sale.
While it would be a nice cap-feather, and a true stage monster, one wouldn't expect the Stealth to sell in great numbers. The finishing touch that may turn most consumers away is going to be the fact that the body is made of basswood. Arched top, yes, but still… basswood.
Hmmm. An all-black, double-humbucker electric with a whammy, basswood body and a maple neck… Haven't I reviewed this guitar before? The $119 Squier Bullet is apparently not much more than an electronics upgrade, four neck bolts and a set of tuning pegs away from what Ed's putting out there – and that cheap import has more tone control, by the way.
Okay, maybe that goes too far, and the price tag is in keeping with EVH's other wares. Still, whatever happened to gear for the working man? Five grand for a guitar and an amp? You can buy a well-used convertible for that kind of cheddar, and still, have enough left over to throw a new guitar and a used Twin Reverb in the trunk.
EVH Stealth Guitar Video Review
This is not an attempt to dissuade anyone from buying EVH equipment. Nobody questions the quality and workmanship that go on behind the scenes (surf around looking for complaints; there aren't any). The idea is to hopefully persuade the money-men over at Camp Van Halen that they can still increase their belt sizes for the foreseeable future on just a little less profit. Then maybe Eddie's real fans, the ones with the worn-out tape decks in their old beater cars, will be able to say they own a piece of the EVH franchise. They'd say it with pride, if only they could afford to.