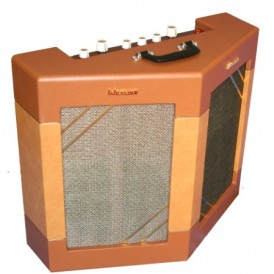 British Amplifiers are happy to reveal that a limited edition Golden Anniversary reissue of the world famous Watkins Dominator V Front guitar amplifier has been released.
In celebration for 50 years of the Watkins Dominator, Charlie Watkins of WEM Watkins has licensed a assembly of only 100 of these legendary amplifiers to be crafted by British Amplifiers in a strikingly beautiful "Golden Anniversary" livery. Each of these special Dominators carries Charlie Watkins name personally signed on both the chassis and a letter of authenticity made out to each new owner. It is anticipated that with such provenance, these reissue will itself become extremely collectible items of musical history in the future.
Reissue Dominators are indistinguishable to the original with the only exceptions being those required to comply with modern safety standards. Small aesthetic details have not been overlooked, even the control knobs have been re-molded to be identical and customized transformers cloned from the originals make certain that both the appearance and the tone have been faithfully re-created.
A Mk1 series 2 Dominator (pre-printed circuit board) type has been chosen as the model for the reissue, this being Charlie Watkins favorite amongst all his guitar amplifiers makes this new Dominator an appropriate homage to his numerous years of achievements in musical instrument development. It is of course a tube valve amp using the innovative classic Watkins 17-Watt "Push Pull" circuit which has been utilized by many other manufacturers and DIY amplifier craftsmen ever since it first appeared. What sets the Dominator apart from other combo amplifiers is the distinctive V front cabinet design. Charlie's idea was to allow the sound to be dispersed around a room, rather than being in a solitary direction, recent hands-on reviews by new Dominator owners suggests that it is in fact very effective.
To compliment the 1960s vintage tube valve amplifier sound, Electro Acoustic Limited have also created a hand crafted 15-Watt 10″ speaker with an AlNiCo magnet based on the original ELAC speakers as fitted in the 60s Dominators. These can be ordered as an upgrade to the standard version which is fitted with Celestion G10 Vintage speakers.
Little would doubt that the Watkins Dominator was THE guitar amplifier of the late 50s and early 60s, many of today's electric guitar heroes began their careers with the help of this fascinating "art deco" design amp and reminisce of them with great fondness. British Amplifiers in collaboration with Watkins Electric Music are excited to make this brand all-new, historically built, Watkins Dominator available once again.
Reissue Watkins Dominators are available as either 230Volt or 120 Volt versions
Price: $1850 usd.
British Amplifiers Watkins Dominator – Original 1950s