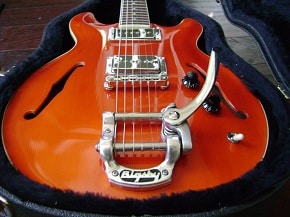 Call them the biggest of custom shops or the smallest of production plants; either way, Hamer knows how to put together some fine guitars. Even their most affordable instruments reveal an attention to detail you might expect to find only in high-priced guitars.
So it only goes to figure that a costlier instrument like Hamer's Newport Hollowbody electric guitar exhibits some truly topnotch craftsmanship. The Newport is part of Hamer's unique line of true hollowbody instruments, which also includes the Newport Pro. It features a hand-carved spruce top on a mahogany body and a mahogany set neck, all bound in ivoroid. The transparent orange finish is subtly flecked with silver sparkles, and the chromed hardware includes Grover Super Rotomatic tuners, chrome pickup surrounds, a Tune-O-Matic bridge and a Bigsby vibrato tailpiece.
The Newport sports a pair of single-coil Phat Cat pickups hand-built in Seymour Duncan's custom shop, master volume and master tone controls and a three-way toggle pickup selector. The Phat Cats are cleverly designed to humbucker dimensions, by the way, so if you must swap them, you can do so without taking a knife to the top. For those less inclined toward this model's rockabilly leanings, the Newport Pro comes with a Tune-O-Matic bridge with stop tailpiece and two Seymour Duncan Seth Lover pickups.
Hamer always manages to ship guitars with astonishingly low action, and the Hamer Newport was no exception. With almost dead-flat neck relief, the Newport boasted action that measured a microscopic 2/64 of an inch on the treble side and just under 3/64 of an inch on the bass. You could think of a note and this guitar would play it. The rounded neck contour is of the Fifties Les Paul school—full-feeling, yet not to clubby; likewise, the small, squarish frets have a vintage Gibson vibe to them. The rosewood fingerboard is modestly bedecked with pearl dot inlays. In every respect, the Newport's construction is inhumanly flawless, from the fret ends sheathed in binding to the buffed and polished finish on the interior side of the f-holes.
The sound of our Newport was a happy marriage of hollowbody richness and P-90-flavored spank. The neck pickup was pleasantly round and dark, and jazzbo tones were easily obtained simply by rolling back either the tone or the volume control. The pickups sounded balanced from the get-go, and the combination settings were a chimey, power-popper's dream come true. The bridge was appropriately bright and toothy, and all settings delivered the slightly aggressive midrange that good P-90 pickups supply.
Of course, any hollowbody instrument will come alive at higher volume settings, and the Hamer Newport Hollowbody was no exception. It didn't require very much gain to make the neck pickup sustain low notes like a synthesizer (with no tracking error, thank you very much), and the bridge pickup coaxed upper harmonic whistles nicely as well. The Phat Cats hung tight at the loudest volumes with not a shred of microphonic squeal; in fact, the top will resonate long before the pickups.
The Bigsby tailpiece was more useful for adding shimmer than for divebombing, as wang bar connoisseurs will knows, and the Tune-O-Matic bridge had just enough back-and-forth wobble to accommodate the changes in string tension without losing its grip on the wound strings. The result: effortless vibrato with no tuning headaches.
The Bottom Line
For those about to rockabilly, go up to the country or spurt jazz, the Hamer's Newport Hollowbody is a phenomenal electric guitar. In fact, anyone who wants to broaden his or her sonic options would od well to smoke on a Newport. And even at this guitar's price (find it used), Hamer's stunning quality will never you asking, "Why 2K?"
Note: The Hamer Newport is a discontinued item. I strongly recommend checking your local Craigslist ads, used vintage sellers (i.e., gbase.com), or eBay to finding one of these guitars to add to your arsenal. Good luck!
Hamer Newport Hollowbody Video Demo