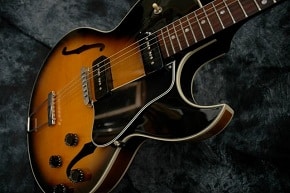 With its single cutaway and slightly deeper body (2.125 inches at the edge), the ES-135 comes a little closer to a jazz guitar than its 335-based brothers. You'd normally find the ES-135 outfitted with chrome hardware and P-90 pickups or, on some models, Gibson's stacked P-100s. The Limited-Edition 135 features the famous PAF '57 humbuckers and gold hardware, including Grover tuners and a trapeze tailpiece. If that center block weren't there, this would be a dead ringer for the jazz player's workhorse, the ES-175.
Otherwise, it's a simple- and functional-looking instrument, with immaculate craftsmanship. An unbound rosewood fingerboard is ornamented with dot inlays, and the headstock is similarly unbound and unornamented, save the gold Gibson decal. Simple white binding sets off the unfigured maple body, with its unbound f-holes. If the untinted clear finish doesn't float your boat, check out Gibson's wine red, vintage sunburst or ebony black finishes.
The ES-135 was strung with standard .010 – .046 strings, but the three-piece maple neck has a healthy, rounded '59 Les Paul contour that could easily handle the added tension of flatwound strings. The deeper body and trapeze tailpiece combine to provide a response that is darker and punchier on the attack and less acoustically sustaining—a perfect recipe for a more traditional jazz tone.
Amp this Gibson up and jazz disciples will swoon the '57 humbuckers sound rich and thick, nailing that Sixties Blue Note sound with a vengeance. Those fat-mama tones will work equal wonders on old-school funk or r&b charts, particularly if you employ the bridge pickup and roll the very responsive tone control back a couple of numbers. Fans of Sixties psychedelia will grok the zaftig, fuzzbox-friendly output: plucking behind the bridge nails Jerry's "Dark Star" tone, the perfect ting for your next raga-rock jam.
THE END LINE
The Limited-Edition 135, has enough custom attitude to set it apart from the standard ES-135 and ES-175 series, and the vintage 'buckers are a good call. This is a premium guitar for all your retro needs.
Gibson ES-135