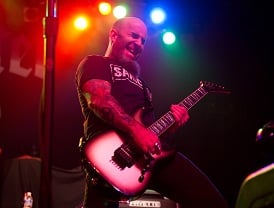 Anthrax's legendary axe-man and founding member, Scott Ian, has been playing Jackson guitars most of his professional career. Why? Because Jacksons' sound and play awesome and are the true definition of metal! Though Ian did play ESP, Washburn and was even known to play a Washburn copy of a Dean Dimebag ML / 333 style (unsure if it was a bolt ML like this Dean Dimebag Darrell guitar). Scott Ian re-upped an endorsement with Jackson guitars in late 2009. Here comes the Jackson T-1000 Soloist.
Ian's go-to axe in the eighties was his NY Yankees Jackson Soloist, of course it's no coincidence Ian is a die-hard Yankees fan. The guitar's wood was mahogany with a 1/8th-inch maple top and a neck-thru body design. The new T-1000 Soloists are based off his 'NY Yankees' Jackson Soloist, but are about a ½-inch bigger all the way around. Ian stated in a recent interview that the new Jackson T-1000 Soloist feels better and a bit bigger to him.
The Jackson T-1000 Soloists were designed by Ian and Master Builder Mike Shannon. Of course Jackson didn't cut any corners with this axe. The guitar is equipped with double humbucking pickups; Scott Ian El Diablo in the bridge position and Seymour Duncan '59 in the neck position — however some sources say the T-1000 Soloist are equipped with Seymour Duncan JBs — while the official press release states El Diablo and a '59. The finish of the guitar is an appealing silverburst, which Jackson refers to it as "Quicksiver" finish. The guitar wouldn't be right without an original Floyd Rose Tremolo system for those insane dive-bombs and for comfortable palm muting. No worries about dropping tune while performing some extreme ass-kicking thrash.
Other features include: oil-finished maple neck, compound radius ebony fretboard (12" to 16"), 24 jumbo frets and an exclusive "High Boltage" lightning bolt inlays (designed by Shepard Fairey), Ivoroid neck and headstock binding, black hardware, Schaller strap locks and a G&G guitar case.
The Jackson Scott Ian T-1000 Soloist comes in single-humbucking-pickup and the dual-humbucking-pickup option — The single pickup option is equipped with a TonePros Tunamatic bridge.
Scott Ian has been playing guitar for over 38 years. His influences are (in no specific order) Dave & Adrian from Iron Maiden, Angus & Malcolm from AC/DC, Pete Townshend from The Who, Ted Nugent, Tony Iommi from Black Sabbath, Ace Frehley, Johnny Ramone, Rudy Schenker from Scorpions, KK & Glenn Tipton from Judas Priest, and Lemmy from Motorhead. Wouldn't it be interesting to see Jackson guitars and Scott Ian collaborate to create a Jackson V guitar? Nah, the RR Randy Rhoads should already have that one covered.