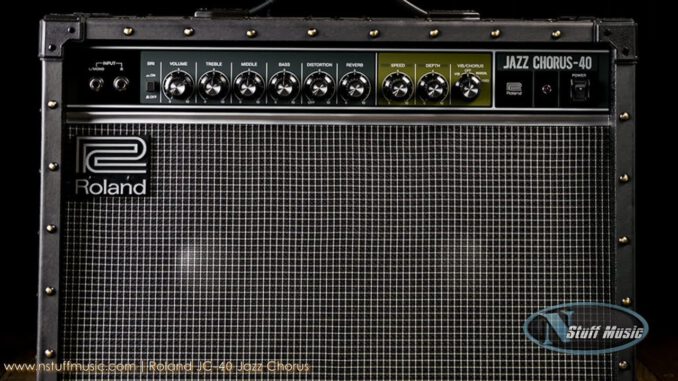 The Roland JC-120 Jazz Chorus amp is one of the most popular amps among musicians because of its quality sound. This amp has two channels for a wide selection of sound options, with a clear and true tone that makes is one of the best amp choices today. No matter what your play style is, you can use the Roland Jazz Chorus amp both for practice and live concerts.
Roland JC-120 Specs
With two channels and many different sound options, the Roland JC-120 Jazz Chorus amp can meet the expectations of any guitarist. The first channel options include a bright on and off switch, a volume control, and bass, treble and middle options. On the second channel, you have all the same options with the addition of a vibrato, vibrato speed and depth control, reverb, chorus and an on/off switch that allows you to use only the first channel. The amp contains two twelve inch speakers, each with sixty watts of playing power.
One of the main reasons the Roland JC-120 Jazz Chorus Amp is so popular is because of the rich sound that is vibrant and smooth.  The front control panels allow for easy access to settings, even when you are playing a live show. The amp also allows for two guitars to play on the Roland amp simultaneously, so if your band is just getting started you don't have to invest in more equipment than necessary to play a live gig. Each of the speakers on the amp are powered separately, giving you a much cleaner sound than with some other amps on the market.
Playing the Roland JC-120 amp
The Roland JC-120 Jazz Chorus Amp is made from high quality materials, so you don't have to worry about taking your amp out on the road. The design ensures that this amp is made to last throughout all of your gigs. The amp weighs a little over sixty pounds, making it a mid-sized amp that isn't too difficult to carry along with you. The Roland JC-120 is also more affordable than other high-quality amps on the market, with a price of about $1,000.
If you are looking for great sound, then the Roland JC-120 Jazz Chorus amp is an excellent option that can outlast many of the other options available. You can have the sound that you want, all for an affordable price.
Roland JC-120 Jazz Chorus Amp