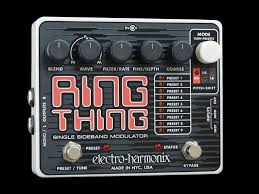 Electro-Harmonix has a history of pedals with super-hero-sounding names: Electric Mistress, Memory Man, Worm, and P0G. A new trio is no exception: Neo Clone could come out of the Matrix; Iron Lung might be Iron Man's loudmouth cousin; Ring Thing, the product of a radioactive experiment gone wrong. The resemblance to fictional characters is fitting, as "character" is something EHX pedals have always had. This new crop of unique devices also has the right stuff.
Send in the Clones
In the late '70s and early '80s the chiming sound of chorus was all over the radio. Just as the sound seemed played out, Nirvana's Kurt Cobain made it hip again. The Small Clone had a more metallic and less soothing sound than the other analog choruses, which was perfect for Nirvana's aggressive music. Despite only one depth switch and one rate knob, it offered its own distinctive voice.
EHX has reissued the Small Clone to great acclaim, but the demand existed for a smaller, more pedalboard-friendly version, so they designed the Neo Clone. It offers the Small Clone's analog circuitry and control configuration in a smaller, even sturdier package. A mini-toggle selects the depth: either subtle and silky or rich and dense; while the sole knob controls the rate.
A Strat run through the Neo into an Orange Tiny Terror yielded a wealth of tones that belied the simplicity of the layout. Set at lower depth, the rate at nine o'clock, it produced a little flanger-style whirl through a clean amp setting, and a cool doubling effect when the Tiny Terror's gain was cranked. This EHX effect shows no trace of the usual mud when a chorus is placed in front of a distorting amp. A noon rate setting created a chiming 12-string effect, while a three o'clock position worked well with Texas-blues rhythm parts.
With the heavier depth setting, rate positions of fully counterclockwise to about 10:30 revealed lush chorus effects, while retaining clarity. Between 10:30 and three o'clock, the pitch warble will be too much for most, but once you get to three and beyond, a lovely Leslie sound kicks in. This could be the device that brings chorus back to the airwaves.
Hand me that Iron
Those who don't need the full feature set of the Electro-Harmonix V256 vocoder should be perfectly happy with its baby brother: the Iron Lung. Housed in an EHX Nano-size die-cast chassis, it uses 256 bands to deliver the kind of robotic vocoder sounds found in current top-40 and dance music. A toggle switch lets you choose among three levels of gain to match any non-phantom-powered microphone plugged into the unit's XLR input. A Gender Bender control lets you choose a more male or more female emphasis, while a tone control rounds out the list of controls on this simple-to-operate device.
I had big fun using a guitar and keyboard to shape the harmony of the words or nonsense syllables that I mouthed. If these types of effects are a big part of your music, you will want to go for the V256, but if your sound needs just a little additional life support, the Iron Lung could be just the thing.
Ring Thing—you move me
You may have seen or heard of effects like Uni-Yibe, Ring Modulator, Whammy Pedal, and Pitch Shifter—in fact you may own one or two. Most musicians, if they have these effects at all, might use one once or twice a set. Imagine a single pedal that would let you play with all these effects and you have the Ring Thing.
Subtitled "Single Sideband Modulator," the Ring Thing shifts and modulates pitch in ways that allow you to create all the effects mentioned above and more. You can then store them in nine preset slots, accessible by turning the big white knob or stepping through the left footswitch.
I reveled in not only having a ring modulator for edgy solos and kalimba effects, but one that I could tune to a key by holding down the left footswitch while playing a note then letting go; and, even better, if I continued to hold down that switch, it would follow the pitch as I played. In another slot I programmed a pitch shift of a fifth down with no original signal for a baritone guitar effect that sounded surprisingly natural. Uni-Vibe? No problem, just move down to program nine. Attaching an expression pedal to the Exp input turned the pitch shifter into a Whammy Pedal. I also programmed flute-like octave and two-octaves-up settings into presets two and three.
These are effects that I was previously loathe to spend the money on and take up valuable pedalboard space because I might use them only once a night. I now have them all, and still have three preset slots open for experimentation. This one's a keeper.
EHX Conclusion
EHX produces products musicians want today, as well as those they might not yet know they want. With the Neo Clone, Iron Lung, and Ring Thing it has come up with three more potential super-heroes of the effects world.
Written by MusiciansFriend – Jon Chappell
EHX Neo Clone, Iron Lung, Ring Thing Guitar Pedals