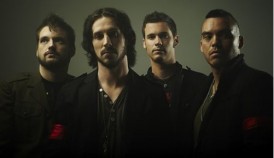 Gear-Vault.com will be conducting an interview with one of our favorite bands, 10 Years for the bands new album debut "Feeding the Wolves". We are very excited to interview and share our experiences with you. In fact, we encourage you to post questions that you would like us to ask 10 Years. We are excited to have the chance for our readers to participate in this interview. Please posts your questions that you would like us to ask 10 Years below. Look for the full interview coming soon! Also stay tuned for our face-to-face Buckcherry interview coming on August 3, 2010.
10 Years – Shoot It Out
10 Years Biography
Jesse Hasek – vocals
Ryan "Tater" Johnson – guitar
Lewis Cosby – bass
Brian Vodinh – guitar/drums
The members of 10 Years might not have used the word crossroads when they began the making of their newest Universal Republic album, but all would concur the wolf was at the door. Figuratively and literally – agree frontman Jesse Hasek and bassist Lewis Cosby; Fighting off the most unforgiving of predatory assaults that comes with the territory of a respected, veteran band like 10 Years who bears the scars of every battle won or lost along the way.
The close-knit members' core creed has always demanded they set their own standards – answering only to their collective challenges as a band, wolves and industry naysayers…be damned.
The difference this time is they called on all their might. And more than a little wisdom.
The aptly titled result – Feeding The Wolves – thunders out from their storm-charred legacy as the heaviest album they've made in nearly a decade, a gift to loyal fans long promised darker hues from the Tennessee band, and maybe a much needed 'opening' for a rock world starving for some kick-ass direction, of late. Ominous songs such as "Shoot It Out," "The Wicked Ones," and "Now Is The Time" sound and feel as if they can stop bullets, spreading the kind of musical shards and shrapnel that only a band in peak, 10 Years' condition can deliver.
"I've enjoyed every album we've made for different reasons," says Jesse. "We never want to make the same record twice, but this one started with a kind of aggressive edge and ended with that same energy that really felt special. We worked hard not to take that 'edge' off. We kept the integrity of the songs by keeping them aggressive." Lewis seconds the notion: "We've been saying for years we wanted to get back to a heavier, darker sound and then by the time we'd go into the studio, things would change. This time nothing changed. There was always that kick-ass feeling in the room, coupled with some things we haven't done before."
Producer Howard Benson (Seether, Flyleaf) was chosen to helm the proceedings, another integral component to locking down the 10 Years magic that had made them one of the world's most enigmatic live and studio bands. "He understood where we were at and where we wanted to go," says Lewis. "He was perfect for this 'big' sounding kind of record," states Jesse.
Ironically, both Jesse and Lewis also cite the 'drift' after 2008's prophetically titled Division – an album that was made after nearly two years on the road – as another factor in the path back to 10 Years' reclamation: A trial by fire and those not-as-obvious corrosive elements that can whittle away at a band's interior compass. The entire period became emblematic of the push-and-pull going on within 10 Years, truly a band that was stretched to its limits. "I think every band who has some success goes through it," says Lewis. "But there were days after a show where I'd actually wonder 'was this our last?' We went through all kinds of changes during the Division cycle. Personnel changes, management changes – a lot of negativity rippling through our camp. We even made that record outside Seattle where we ended up only feeling more disconnected. We eventually decided to take some time away and get some perspective."
A clean break can be cathartic – but never a guarantee that the players will reconvene on the same page. The band promised themselves before gathering for this album that getting back into that rehearsal room with their collective 'headspace' intact was priority number one. "There was just a feeling in the air that we were going to come hard on this one," says Lewis. "We even gathered 3 weeks prior, in a rehearsal space in L.A. before we were scheduled to record, which was unusual for us. The fire in the belly was back."
And as fate would have it, inspirational flames were also heating up the 10 Years furnace courtesy of the rehearsal room next door. "They probably don't even know what it meant to us, but Rage Against The Machine was playing in the room next to us," says Jesse. "We could just feel the sound coming out of the there. You have to understand, they, along with bands like Metallica and Nirvana and the Deftones were what we grew up on. To hear them killing it like that – I know it affected us."
Lewis says the enthusiasm was palpable. "We were like kids, saying "'God, did you just hear that?' I realized everything that was coming out of them was so riff-heavy. Our album was heading in that same direction. It was like a sign. We were so pumped. We arrived in LA with songs already written, yet here we were, so inspired, I bet we wrote five more in there that ended up on the album. We were on a mission on this one."
A communal slugfest that also ended up being their most collaborative effort. "The way we write has always been an open door," says Jesse. "We just kicked it down this time. Brian would bring in a guitar part, or I'd have some verses, but we were more methodical. We even went down a lot of avenues that didn't end up on the record, but we went down them all together."
Such crucial threads are pulled tight on songs like the bristling "Shoot It Out," fanning the 'feeding the wolves' premise that came to represent some of the band's ferocious themes on the new album. "We're not just talking about the stereotypical 'wolves' in the music industry," says Jesse. "Everybody on the planet has bigger dreams than just sitting around waiting to die. Sometimes you have to put yourself on the line for those dreams. You are out there – but so are the 'wolves' waiting to feed." "And they can bleed you dry," adds Lewis. Jesse confirms it was easy to work on that song as a band because the group was so in sync with the motivation behind it. "We've been through the ringer, where if you give people an inch they will take a mile," he says. Another song that throws down the 10 Years gauntlet is the impenetrable "Fix Me." "I think it's going to be one of the songs that grabs people from the start," says Lewis – fueled by lyrics that just may be slyly revealing the 10 Years hidden-code: 'I'm fine in the fire/I feed on the friction/I'm right where I should be/Don't try and fix me…/
If there has ever been a band comfortable about being appreciated solely on its merits – about being accepted 'as is,' that band is 10 Years.
Ever since 2001, when the group replaced their original vocalist with Jesse Hasek, 10 Years seemed to sense that being armed with signature sound and fury would eventually gain them one of the most loyal audiences in rock. In 2004, they released the indie missile Killing All That Holds You, featuring the now-classic "Wasteland" and "Through the Iris," and netted them their major label debut with Universal Republic. Their acclaimed 2005 effort, The Autumn Effect, snagged them massive radio and video play, established their rabid audience, and handed them prime touring spots with bands such as Disturbed, Breaking Benjamin, Mudvayne and Sevendust. Later, torrid live-runs with Linkin Park, Korn and the Deftones, further cemented their reputation as one of the most credible live acts of the decade.
Division arrived in 2008, with the aforementioned trials mentioned by Lewis, and a baptism via rock n' roll bullshit that might have annihilated lesser bands. "No need to go into it," says Jesse. "It's why I take my little digital recorder around. I'm always observing, always getting ideas. I find a corner and get 'em down on tape. If I'm lucky, they sometimes blossom into songs."
Known as a wordsmith who can hang with the best of them, but for also leaving room for the listener to interpret his riveting observations wrapped around the scorching guitar treads of band co-founder Brian Vodinh, Hasek has also been humbled by simply being around his first child.
"Change isn't always bad," he says. "Most of the changes we have gone through have made us better people and a better band. The band-part takes all of us working hard to make the kind of music we know we are capable of. I think we did that on this one."
Lewis says it was all about coming to the same conclusion without making any pronouncements. "It's the most cooperative thing we've ever done by far. It's like we all had the same epiphany without really having to talk about it too much. You'd be cheating yourself if you don't sit down and listen to the entire album. . We left it all there for everyone to hear."