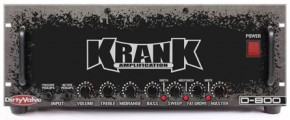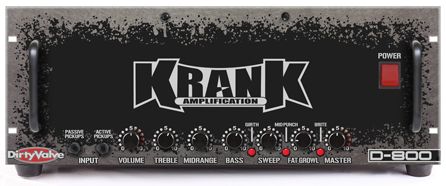 Let's face it, when you're thinkin' Krank, you're thinkin' KRANKENSTEIN! You're thinkin' "DIMEBAG"!!!!
And you'd be right. But it's time to think outside the bag. The good folks at Krank didn't want the guitar slingers to have all the fun…uh, uh…no way. They've taken all of that high gain expertise of theirs and created a powerful, multi-faceted bass amp (Bassenstein, maybe?). This latest addition to the Krank line of products is called The Dirty Valve D-800.
As is all the rage, the D-800 is a hybrid, with an all tube preamp and 800 watts of serious class D horsepower. It has a master volume gain, 3-band eq, what Krank likes to call their "unique", Sweep parametric eq, to dial up all the frequencies in your head and then some. Fat Growl adds a deep, wide fuzz, Girth adds extra low end, Midpunch brings a classic "dirty" rock tone to the party (think John Entwistle on "My Generation") and a Brite function for added top end. As if that wasn't enough, there's an fx loop, a line out with a level control (how some manufacturers think we don't need a level control is way beyond me…) tapped directly from the preamp to send your exact settings to the FOH or out to the recording truck. Another way cool feature is a worldwide voltage selector.
The D-800 is a versatile, powerful tool that will allow you to give a loud and clear statement and you'll be able to channel Larry Graham to Flea, no problem.
So now you might be thinkin' "OK, what about a speaker cabinet '? Well…The Kranksters don't spend all their time out there in the desert chasin' lizards. They've created the perfect match and they call it "BASSZILLA" Also a first entry, it pairs perfectly with the D-800. The Basszilla is a 8 x 10 sized cabinet, BUT with a 2 x 12 top chamber and a 4 x 10 bottom chamber. Dig this; each chamber can be run individually, making it possible to use just one chamber, or (the mind boggles at this one), even run TWO separate heads, one to each chamber.
Containing all of the potential power that can be plugged into Basszilla, is 13 ply Baltic birch. Another cool touch is a maple baffleboard, giving a thick, deep wood tone along with a bright top end. 'Zilla is loaded with Eminence speakers and is rated at 4 ohms, with a removable metal grill. This thing is articulate and certainly packs a punch and in a heavy, dense rock mix, the 2 x 12's give a clear piano kinda tone and the 4 x 10 kicks out a ton of low end that keeps those pesky guitars from clashing frequencies with the bassist.
The D-800 street price is expected to be $1299.00, while Basszilla is available now and will street at $1199.00.
Krank Dirty Valve D-800 video courtesy of TheToneKing