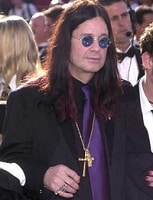 This morning Gear-Vault received information from USA TODAY that our beloved Madman, Ozzy Osbourne wishes to record two more new albums. Is this his final debut?
Ozzy is 60 years old, and has essentially proven to be the "godfather of heavy metal." Osbourne's professional music career started at the age of 20 with Black Sabbath. Ozzy's first band was namely, "Rare Breed", which was started with schoolmates; Toni Iommi (guitar riff-meister), Geezer Butler (bass) and Bill Ward (percussion). Soon after, "Rare Breed" had temporarily departed, it was not until 1967 when the boys reunited and called the band "Earth". Finally, in 1969 the legendary band name, "Black Sabbath" was embraced and history had begun.
In the latter years, Black Sabbath dropped Ozzy due to an extreme drug abuse problem, which caused him to become a reliability risk for the band. Of course, Ozzy went on to prove that he was a driving force in the band and unites with the legendary guitarist, Randy Roads, to create Ozzy's solo album, Blizzard Of Ozz, which seemingly became an enormous hit with metal and rock fans all across the world, shifting over 4.1 million copies in the U.S. alone.
Hit songs from the Blizzard Of Ozz album included:
1. "I Don't Know" – 5:16
2. "Crazy Train" – 4:56
3. "Goodbye to Romance" – 5:36
4. "Dee" (Instrumental) (Rhoads) – 0:50
5. "Suicide Solution" – 4:21
6. "Mr. Crowley" – 4:55
7. "No Bone Movies" (Osbourne, Rhoads, Daisley, Lee Kerslake) – 3:53
8. "Revelation (Mother Earth)" – 6:09
9. "Steal Away (The Night)" – 3:28
After the Diary of a Madman album, Ozzy faced yet another loss, 2-1/2 years after being fired from Black Sabbath, Ozzy lost his guitarist and friend, Randy Roads in a tragic plane accident.
As Ozzy proved in the past years, through adversity, he picked up the pieces and continued on with his love and passion for music. The creation of more great albums were born, however, finding a stable guitarist was the biggest challenge Ozzy had faced… and defeated when he found Zakk Wylde.
List of guitarists Ozzy employed since Randy Roads
.
• Bernie Torme (1982)
• Brad Gillis (1982)
• Jake E. Lee (1982-1987)
• Zakk Wylde (1987-1992, 1995, 1998, 2002-2004, 2006-present)
• Steve Vai (1994-1995)
• Alex Skolnick (1995)
• Joe Holmes (1995-2001)
• Jerry Cantrell (2004-2006)
And once again, Ozzy Osbourne was proving he was not a man who can be broken, at 60 years of age he is still rockin the world with Ozzfest and creating more legendary music for the new Millenium. The man that does not understand the word "quit".
Per USATODAY.com
Q: Can you say anything about next year's Ozzfest? (This year is a one-off concert with Metallica and System of a Down Saturday in Dallas).
A: I guess my wife has a plan up her sleeve. There will be something next year. I think it will be the Ozzfest again, back to normal (a multi-date tour). But I don't know at this point.
Q: Anything else in the works?
A: I am recording another album soon. I've got a Pro Tools machine downstairs in my house now, which I record from home now. I can't turn the f——ing thing on. (Laughs). It's like the brain of the house. But when you have somebody who knows what they are doing, it's so easy to make records now, it's not even funny.
The art of making records is somewhat diminishing. It's taking the passion out of it. But I will try to give it as much real me as I can. There are so many tricks I can use.
I want to make two albums. Make one and go out on that one, and make another one and go out on that. Time is very valuable to me now. I'm 60 this December. It does not seem 10 years since I was 50. It really doesn't. My mission now is to do as much as I can.
All-Hail-Ozzy-Osbourne, our "Godfather of Metal."