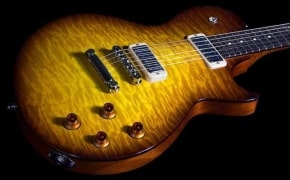 Collings has been a maker of high-end, dream-fulfilling acoustic guitars for quite some time now. Their guitars have been seen in the hands of many famous players and they have developed a reputation for producing instruments of the highest quality. Their latest efforts, however, have been in the world of electric guitars. They are building guitars that range from jazz boxes to rock-influenced solid-body styles. Their 360 model, which is named after a highway in Collings' home state of Texas, is the lowest priced electric they make with a retail price of $2900. While not a cheap guitar by any means, the 360 is an excellent guitar that anyone with the money to spend will find to be a worth contender.
The Collings 360 is sort of a stretched -out Les Paul-looking affair, though a bit thinner and lighter than a traditional Paul. It sports a real nitrocellulose lacquer finish, a one-piece mahogany body with a flamed maple top, a mahogany neck with a 24-7/8" scale length and 1-11/16" nut width, an Indian rosewood fingerboard, and an ebony peghead overlay, which makes for one very attractive instrument. Electronics consist of two Lollar mini-humbuckers with independent volume and tone controls for each and a three-way toggle switch for pickup selection. The knobs are old-school tophats, but are recessed into the body a bit, which may take some a while to get used to. The wiring is what Collings calls "50 style", which means the volume controls do not add bass to the sound and, as a result, the 360 is remarkably even and balanced. The hardware on the 360 consists of a TonePros bridge and tailpiece and Sperzel tuning machines.
The 360 comes set up from the factory with 11's, which is a bit of a gutsy move, but shows who Collings is aiming this ax at. The setup is right on and the fretwork is perfect. The neck has a round older Les Paul-type feel to it and will make blues, jazz, and roots players very happy. The 360 is very resonant and alive, which is an excellent quality for an electric guitar, and truly inspires the player to reach for his own potential. The mini-hums stay crisp and don't muddy-up, as full-on humbuckers can sometimes do. This really is a great guitar and it is hard to find anything about it to nitpick. Collings guitars are never cheap, but they deliver a high level of quality and satisfaction so, if you pack the gear to purchase one, you will not be disappointed.
Collings 360 Electric Guitar
Performed by: tonedr
Click the link to watch more Collings 360 guitar demos