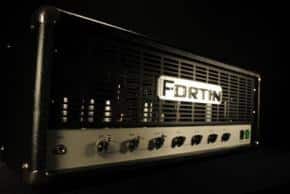 The BONES amplifier is a stripped down "bare bones", single channel, all valve, electric guitar amplifier. With delicious modern styling and a straightforward & intuitive front panel layout, BONES is exceptionally versatile and completely inspirational from the first note played. It maintains all the detail of your guitar and playing dynamics as well as front-end dynamics from stomp box pedals.
The BONES front panel features consist of Input, Gain, Bass, Bright switch, Boost switch, Middle, Treble, Voicing L/M/H switch, Depth, Presence, and Master controls as well as Power and Standby switches. The Voicing L/M/H is a 3-way switch that selects between 2, 3 or 4 stages of gain. This function really changes the tone and feel of the amplifier giving you an astounding array of sounds. From succulent, vibrant cleans to blazing, cabinet erupting high gain overdrive, it's like having three totally different amps! The rear panel includes 5 LOUDSPEAKERS, AC input, 4-Bias controls and test points, jacks and if requested, the following optional features (FX loop, Lineout with level, Footswitch & MIDI). The individual Bias controls are a powerful feature and tool for tapping into more tonal possibilities with the BONES amp. You can also mix and match different tube types together for virtually unlimited variety of tones.
BONES Chassis mounted components are wired, "flying lead" design, to a 1/8″ thick, 4oz weighted FR4 PCB. All ceramic tube sockets, sealed stainless steel shafted pots, metal jacks, metal switches, custom designed precision wound power, choke and output transformers are mounted to a rugged14 gauge brushed stainless steel chassis. Front and back panel are clear anodized brushed alloy with laser etched lettering that will not wear off. Housed in a ¾-inch birch-ply head case, accented with custom black aluminum anodized metal grills and a ¼-inch thick machined alloy logo plate. Premium components are used throughout, combined with solid, reliable design that will last several lifetimes over.
BONES FEATURES & SPECIFICATIONS:
World Mains 100/110/120/220/230/240 VAC 50/60HZ.
VOICING L/M/H selects between 2, 3 or 4 stages of gain.
4 – 12AX7s (1 x 12AT7 FX Loop) & 4 x Power tubes in any combinations of EL34, 6CA7, KT77, 6L6, 5881, KT66, 6550, KT88, KT90, KT100. Class-AB, 100 to 180 watts
4 – BIAS locking pots.
RMS, depending on types of power tubes used.
Fully regulated preamp DC heaters for an ultra low noise floor.
Optional FX Loop, Lineout w/ level control and other footswitching and MIDI options.
Marriage of PCB and Point-to-Point assembly.
Approx Street price: $2575.00 – Visit Fortin Amps web site at www.fortinamps.com.