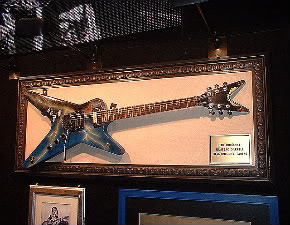 Dean ML Guitars – I'm willing to wager that every guitar player has heard or played a Dean Guitar. Of course you recognize Dean's distinctive winged logo and diverse body shape of the ever so popular Dean ML, but do you know where it all comes from? This guitar's body shape has proven over the years to be very popular amongst many different hard rock and heavy metal guitarists. Although without a man from Chicago by the name of Dean Zelinsky, the guitar world would never have experienced a Dean ML, and history would not have been made.
When creating the Dean ML in 1977, Zelinsky aimed to create a guitar that would have the perfect tone. In addition to the ultimate tone, he aspired to create the best sustaining guitar of the Dean collection. The ML is truly a work of art when it comes to revolutionizing the way various companies started constructing their own guitars. Many people assume the ML is just something pretty to look at but the truth is, it's more than some aesthetically pleasing hunk of metal and wood to sit in the trophy case. The Dean MLs play and sound like a dream. The unique headstock gives extra long string length which gives off a unique sound. No guitar provider can match a sound like a Dean ML because the ML is in a league all of its own.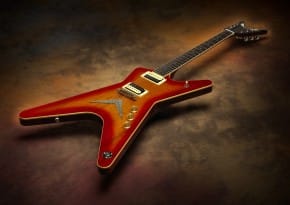 The guitar's tone, the largely spread out body, the signature winged head stock; it all serves a purpose that goes even beyond making a nice looking guitar. Priced around $600 dollars you can't really go wrong with this model. Sure, $600 bones isn't chump change but for a guitar like this I would say it's quite the bargain, definitely beats dishing out a few thousand big ones on a Les Paul Custom. With the Dean ML you get a great sounding guitar all bundled up into a brutal looking ax.
If you cannot bring yourself to believe that this guitar is less than astonishing, then dig up some old Dimebag Darrell interviews. In honor of Dimebag, Dean Guitars created a tribute ML model named "Dime From Hell". The Dime From Hell ML is identical to Dimebag's original ML, blue in color, features the Buddy Blaze lightning bolt that covers nearly the entire front of the body. And, of course, the Dime From Hell tribute guitar is equipped with Dimebag's favorite equipment; Bill Lawrence L500XL Bridge Pickup, Floyd Rose Tremolo, Grover tuners, and Dimebag's patented traction knobs.
Dimebag's renowned Bolt Dean ML guitar can be seen wielded to the fierce guitarist on the cover of the Pantera album, "Cowboys from Hell". To some, Dean ML guitars are just another instrument… but to others, they are a revolution.