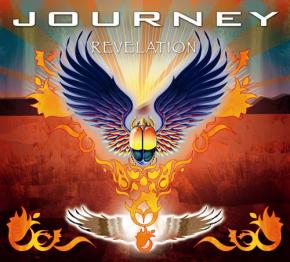 When Journey began working on what was to be their break-through album, Infinity, there wasn't much riding on the record's success. Just the future of the band.
Since forming in 1973, the Bay Area quartet—former Santana members Neal Schon on guitar and Gregg Rolie on keyboards and vocals, ex-Steve Miller Band bassist Ross Valory and journeyman drummer Aynsley Dunbar—had earned critical kudos for its albums of instrument-oriented rock. But, as we all know, great reviews don't necessarily sell albums.
"We had completed three records at that point, and they were selling less and less every time," Schon remembers. "We were on the road nine months out of the year, and everybody was starving. So the record company was like, 'Look, either you guys get a lead singer or we're gonna drop you.' So we went, 'Okay, let's try it.'"
It turned out to be a fateful decision, one that set Journey on a path to become one of the multi-million selling arena superbands of the late Seventies and early Eighties. But those results didn't come instantly.
Journey first enlisted a singer named Robert Fleischmann, who was part of the band "for about two seconds," according to Schon. While Fleischmann's new bandmates loved his songs, they weren't enamored with what Schon calls his "prima donna" personality.
Enter Steve Perry, who Schon had actually met a few years earlier when the guitarist was playing in his post-Santana band Azteca. He even remembers giving Perry a lift back to his car. Perry—who was singing in a band called Alien Project—later showed up at a Journey show to proffer his services as a lead singer. The group wasn't interested at the time, but a few years made the difference. "We had this chemistry," Schon said of writing with Perry. "We were wrting all over the place—in hotel rooms during the tour, downstairs in living rooms at home."
The first song Schon and Perry wrote together was "Patiently," during the tour prior to Journey's recording Infinity, "We were rooming together," Schon recalls. "I had a lot of music put together, and he just out the vocal on it and that was that."
Their second composition was no slouch, either: "Lights," which was to be Journey's first hit, was written at Rolie's house. "We knocked that one out if five minutes," Schon says.
Journey also finished off some songs they'd begun with Fleischman, including "Wheel in the Sky" and "Winds of March." They were confident of the material, and Roy Thomas Baker—who had established his hit-making credentials with Queen and the Cars—was brought in as producer to give the band a new sound to go with its new lineup. "We were making a huge step in a different direction," Schon says. "We had never done the violin-type guitars, the Brian May stuff where you have, like, 12 guitars sitting in the background, playing violin-like harmony parts. That sort of fills out that record real nicely. It was an interesting process."
Baker proved to be an interesting charcter, too. He brought a throne-like chair with him to the studio—His Master's Wheels in San Francisco—and wore a king's crown during the sessions. The Journey men got quite a kick out of him, but Baker ran afoul of the studio's owner, Elliot Mazur, one night after he had a bit too much saki and sprayed a fire extinguisher around the studio, not good.
"This was not some posh studio like Baker was used to recording in," Schon says. "I think it was his way of slamming the guy's studio. And [Mazur] took it personally, like I would. He came into the studio and saw it and said, 'Roy, can I talk to you for a second?' He took him in the back room and closed the door, and then I heard [Baker] just slamming around the room. [Mazur] beat the shit out of him."
Infinity made its own impact, of course—a big one. Rock radio jumped all over "Lights," "Wheel in the Sky" and the semi-medley "Feeling That Way/Anytime." The album spent more than two years on the Billboard chart, peaking at No. 21, and has sold more than three million copies to date.
The grand experiment had worked. For the next decade Journey would routinely fill stadiums, the band's ascent unhampered by the eventual departures of Dunbar, Roalie and Valory (who since reunited). But Schon—who now leads the latest incarnation of Journey, which has songs on the Revelation album—still looks fondly on the innocence and anxiety that he associates with Infinity.
"It's one of my favorite Journey records," he says. "Mainly, I remember the good times. We had some good times in the very beginning with the band. I remember the better times were in the beginning rather than later on."
1978 Video: Journey – Wheel In The Sky