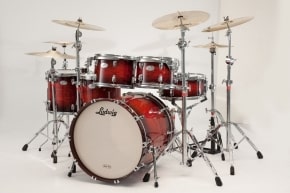 Ludwig Introduces New Legacy Exotic Drums – Applying drum shell-crafting technology refined over a century, Ludwig's flagship professional drum line is advancing to the next level. With the company's 100th Anniversary year, Ludwig introduces the all-new Legacy Exotic, a stunning recreation to a modern classic.
Instead of cutting new timber, Ludwig locates felled logs from Australia and Africa, three exotic hardwoods made the final cut because of their tonal quality and visual elegance: Lacewood, Sumauma, and Black Limba.
Ludwig has combined these exotic woods with inner and outer plys of North American maple and traditional single 1/8-inch thick poplar core ply that creates a rich sonic warmth to the Legacy's shell and moves it into an all-new array of tonal range. Legacy's trademark rounded bearing edge creates a perfect compliment to the ¼-inch single-ply maple reinforcement rings. Four finishes in each of these woods will be introduced throughout 2009. The Ludwig Legacy Exotic kits will only be in limited quantity, making this beautiful craftsmanship another perfect addition to Ludwig's outstanding vintage tradition.
"Ludwig drums have been the industry standard since 1909 and the tradition and quality continues on today better than ever with a sound that could only be Ludwig", said Kevin Packard, Director of Marketing, Combo Percussion. Visit Ludwig's official web site for more information.
Ludwig Legacy Exotic Drums