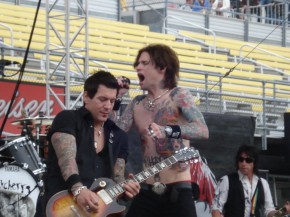 The Common Grounds Festival in Lansing Michigan is one of the few festivals of its kind in the state. This year's edition hosted musical artists ranging from Three 6 Mafia to Alice Cooper to the subjects of my interview, hard rocking quintet Buckcherry.
Located in Lansing's Adado Riverfront Park and surrounded by downtown Lansing's many historical buildings, the festival's atmosphere was fantastic. Passing through the makeshift security gates and stepping behind the stage, I noticed a circle of buses, dressing rooms, and what seemed like an army of managers and representatives for the day's performers, which also included Drowning Pool and Jackyl. Talking to Buckcherry's manager, I was pleasantly surprised at the level of professionalism and dedication that seemed to radiate from the backstage atmosphere. Almost immediately after introducing myself to Buckcherry's manager, I was led backstage to have a talk with guitarist and founding member Keith Nelson's guitar tech. While stringing up one of Keith's many Les Pauls, he took me through the vast array of boutique gear that makes up Keith's signature tone.
Featuring over a dozen guitars, and half a dozen very unique and impressive amplifiers (including a Sampson AC50 clone made especially for the guitarist) as well as a few key pieces of rack mounted gear and a sparse but effective pedal board, it was obvious Keith was serious about great, classic guitar tones. Some of my favorite pieces of Keith's gear were his Travis Bean guitar and Gibson Korina Les Paul Custom. Both of these guitars are really unique pieces and in the case of the Gibson, probably one of a kind.
An important note about Keith's pedal board: he has one giant foot controller for all of his effects which are located in a rack backstage with the exception of a Vox Wah and a tuner. After I met with Keith's guitar tech, I waited for about fifteen minutes before being led to a trailer/dressing room that had everything a professional touring musician needs; a few couches, practice amps, and select beverages as well as fresh fruit, really classy stuff for a trailer. Keith showed up a few minutes after I sat down, and after grabbing a Red Bull, I sat down with him for our interview.
For anyone reading this, let me make one thing totally clear, Keith Nelson is not your run-of-the-mill rock guitar player. Keith's admiration for his bandmates, love for what he does, knowledge of guitar gear, and general humble attitude made this interview a great experience. I'd like to thank Buckcherry's management, crew, and of course Keith for making this interview easy and a lot of fun. And if you're a fan, make sure to pick up Buckcherry's upcoming release "All Night Long".
Click Page 2 to read the interview:
Page 1 | Page 2