Bugera 6262's clean and crunch channels feature a vintage designed EQ section with bass, mid and treble that is simply beyond one's imagination. Both channels offer classic presence controls. In addition, there is a master volume and a master cut control. There is an internal diode that pushes the amplifier even harder making it break up more. The Bugera 6262 also features useful effects loop for you FX lovers. Impedance switches (4, 8 and 16 Ohm) are made to match virtually any speaker cabinet. Heavy-duty, rugged footswitch for channel selection and FX Loop function are included. The guys at Bugera are no slouch, they hand make their tube amplifiers using high-quality components and excel for building rugged equipment to ensure long life and road-incredible amps.
The Bugera 6262 amplifier is amazingly versatile as it can be used in the practice area, the stage, and in the recording studio. This piece of equipment really does the trick for all settings. With a massive power transformer at 120 watts full blown, doubt any sane guitarists will turn the master up past 6, but who said guitarists are sane? When it is rocking out it goes from country style slight clipping, to bluesy twang, to hard rock sing, to rock grind. If you like the British sounds then this is absolutely the amplifier for you.
The Bugera 6262 has a classic 2-channel preamp design, a clean and a lead channel. The clean being very clear and sultry and the lead with a ballsy overdriven raw tone. When cranked to the maximum, the clean will break up and one can get those chimed tones like the edge. It is spot on for a Hendrix type of break up. However, it remains totally clean until 6 which is incredible, the cleans on this amplifier hold it's own.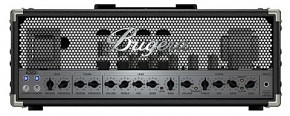 The lead channel is voiced relatively light. It has the possibility to be full blown on crunch but has lesser distortion because of the unique voicing. It obviously works well with a Fender Strat. With tone amplification capability, it is stacked with filthy crunch which provides incredible tone. Love the Jimmy Page's Black Dog? The Bugera 6262's crunch is spot on. Fan of Clapton? Get that early Eric Clapton with cream sound flawlessly. We could go on, but words do not describe it. Bulgera 6262 has no difficulties getting the ultimate British rock guitar tones.
The Bugera 6262 120-Watt two channel Valve guitar amplifier head with reverb is the authority of tone, designed for ultimate versatility for those guitarist who want diversity of amp sound at the controls of the dial knob. From rock to country, metal to alternative, to grindcore, this beast performs with the best of them, hand built with raw massive power and roadworthy reliability, and virtually unlimited dynamics in a 2-channel configuration.
This beast is a high output 120-watt valve amplifier and provides mammoth tones
Amazingly, it gets very little noise, even when relentlessly cranked. It is super touch sensitive and responds amazingly to pedals and effects. It is a fuller, deeper, and warmer then most other production amplifiers. It really does provide that boutique sound that people are always talking about and pay that high dollar for in other amps. It is a straightforward amp and simplistic yet diversity, it's a calling card to cover a full gambit of rock styles. It is wonderful for the blues and the rockin cleans. This amplifier is an art for rock and roll.
Bugera 6262 Video Review
At the end of the day, a musician on a budget will absolutely love the price, the Bugera gives the Bugera 6262 give high end amplifier companies a run for the money. When it is rocking out it goes from country style slight clipping, to bluesy twang, to hard rock sing, to rock grind the amplifier's performance is just too brilliant far, wide, and loud.