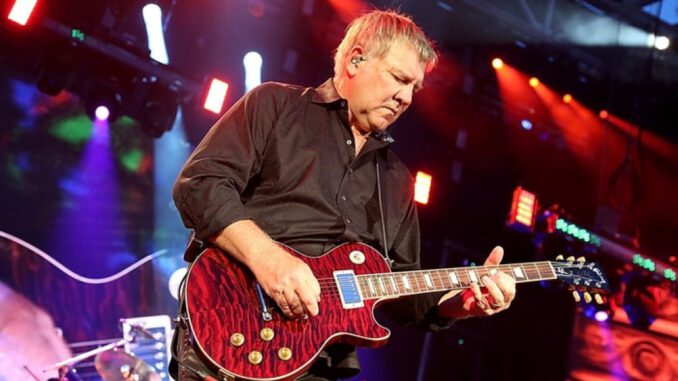 Alex Lifeson is known to have played a tremendous number and variety of guitars throughout his career, and even on one record – in the making of Rush's 2002 release, Vapor Trails, Lifeson used 50 different guitars and, for the first time in years, no keyboards whatsoever.
Now, Lifeson has teamed up with the good folks at Gibson Guitars, releasing his signature model Gibson Custom Alex Lifeson Les Paul Axcess. In some ways, Lifeson goes back to his roots with this electric guitar; in others, he uses it to summarize a lifetime of playing and recording experience.
Alex Lifeson Gibson Custom Les Paul Axcess Guitar
Lifeson started out playing a Gibson ES-335 for Rush's first four albums, switching to a Les Paul (blasted through a Marshall stack) during the seminal 2112 Tour. By the early 1980s, he was playing custom-built Fender Stratocasters, with a Bill Lawrence humbucker in the bridge position, almost exclusively. He rotated through four such Fenders – all with Floyd Rose locking tremolos – until 1986 when he switched to his own brand, Signature Guitars. For use in the studio, where time is money, it's an understandable decision since anyone would be more familiar (and no doubt more comfortable) working with a guitar of one's own design.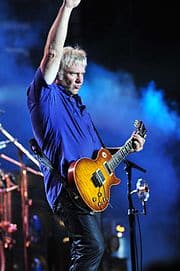 Now, along comes this signature Gibson that is also of Alex Lifeson's design. While he is clearly considered by some to be a guitar giant, it isn't fair to true greatness to put him in the same pantheon as those undisputed heavyweight champions of rock and roll – Jimi Hendrix, Jimmy Page, Eric Clapton, Stevie Ray Vaughan and others going all the way back to the crossroads. That is not to imply that Lifeson is undeserving of signing off on a custom guitar… It just makes him a curious choice, that's all.
Lifeson obviously put a lot of thought, and a lot of different puzzle pieces, into this guitar. It is an instant rarity among Les Pauls in that Gibson equipped this one with a locking Floyd Rose tremolo system. It also includes Graphtec Ghost piezo saddles, lending a truly acoustic sound to the guitar in the right setting, with the Gibson humbuckers providing all the glory your amplifier can handle. Make no mistake about it, there are many sounds from which to choose with a push-pull volume knob control taking full advantage of the Les Paul's parallel wiring, to say nothing of the startling sight of twin output jacks. You truly can go anywhere Alex Lifeson would want you to go.
Gibson Alex Lifeson Les Paul Axcess Electric Guitar Video Demo
Alex Lifeson Les Paul Axcess Price Tag?
So what's the nagging question about this beautiful and amazing instrument? It boils down to one thing: Is a Lifeson edition Les Paul really worth the $4,000 price tag? It's understood that the Alex Lifeson Les Paul Axcess is not all that much more expensive than some of the nicer stock Custom LPs, a point which (if logically followed) only leads to a discussion about the fairness of that price tag as well. At the risk of costing a worthy and revered company any business, let's just take a quick look at what's available right now for four thousand bucks. For the sake of simplicity, we'll stick to the vintage stuff.
Let's see. There's a 1962 Gretsch 6119 Tennessean (the same model George Harrison played in the Beatles' groundbreaking Shea Stadium concert). There's a 1964 Gibson ES-330 with the dog-eared P90 pickups. Or a 1974 hard-tail Fender Stratocaster. Or a 1976 Gibson Les Paul Custom. Or a '68 Fender Jaguar. Or a '66 Rickenbacker 360. Even Gibson's big technological splash, the Robot Les Paul – yes, the guitar that tunes itself – can be found in that same price range.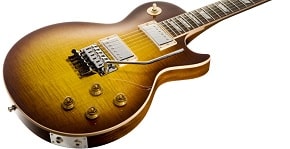 Does Lifeson's LP Axcess play any better than those guitars? More important, with $4,000 on the line, will this investment hold its value over time? Is it more likely to depreciate (like the Robot), or appreciate, the way all of the aforementioned classics have?
It stands to reason that Gibson would keep this run to a limited number (with only 50 offered with Lifeson's actual signature). In order to shell out that kind of money, the potential buyer would have to be an amalgamation of three things: A major Gibson aficionado, a huge Rush fan, and a person of substantial means. To those who take the plunge, I have just one question, a serious one: Can I please borrow it?
Alex Lifeson Interview: Gibson Les Paul Axcess