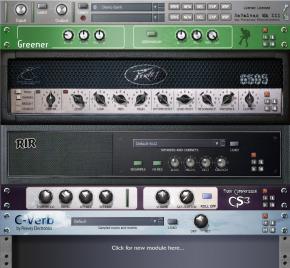 For years, Peavey has been renown in the music industry primarily for its amplifiers and guitars. Of course, today's musician relies on far more than just a good amp and axe to make music. Many artists have shifted to replacing their large, wife-wrath-drawing rigs (with their tangled pile of cables) with a more wife-friendly alternative: software. Not only is the use of digital workstations and plug-ins becoming more prevalent in smaller home-based studios, but pro studios are also jumping on the bandwagon and relying on their computers to do the dirty work (and the heavy lifting).
And, of course, Peavey has responded well to the trend.
With Peavey's new ReValver MK III amp modeling software, you can now have access to a treasure trove of amplifiers that you would never have the budget (or the storage space) to acquire. Just imagine: you are sitting at your computer with your main axe across your lap when suddenly you feel the urge to switch from that classic British sound to something a bit more shred worthy. The ReValver MK III makes it easy to do, thanks to its drag-and-drop rack view. The MK III will even allow you to combine different preamp and power amp modules to create your own custom tones. In addition, you can also choose from several different amp cabinets and speaker/mic positions (including the ability to choose different mics). Or if you prefer, the ReValver MK III will even allow you to design your own custom cabinet within the software, specifying the height, width, depth, weight, etc. to further control your custom tone.
As for effects, the Peavey ReValver MK III is loaded with distortions, compressors, limiters, delays, reverbs, chorus, flangers, phaser, vibrato, wah/filters, and a few other nifty toys for tweaking your sound. For even more variety, the ReValver supports VST plug-ins. Also included in the ReValver MKIII is the 6505, JSX, XXX, Classic and the Bluesmaker which makes a total of 15 amp models giving you a complete spectrum of tone. Each amp model is tweakable, so if you are a tube swapper, you can do it in the Tube Type pane which also gives you an abundance of options from Voltage to Attenuation to Coupling Capacitor Frequency.
The End Line
The Peavey ReValver MK III is a formidable program for getting the sounds you want out of your head and into your multi-track workstation.