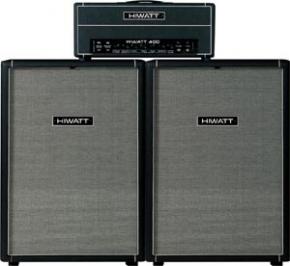 When Robert Trujillo (Metallica) wants to make noise, he plugs into his HIWATT amp.
With that comment, the rest of this article could be left unsaid, and you could rest assured that HIWATT makes excellent quality bass amplifiers.
Of course, that would be letting the uninitiated readers down, wouldn't it?
The HIWATT Custom 400 bass amplifier head unit is constructed using the same timeless technique as all other fares which bear the HIWATT nameplate: completely hand-built utilizing military-specific point-to-point wiring, giving you nothing but purely awesome tonality.
The HIWATT Custom 400 is a relatively simple machine on the surface. It features two inputs, normal and brilliant, with separate volume controls for each channel, your standard 3-band EQ with presence control, and a master volume.
It couldn't truly be called a 'HIWATT' amp without packing a brutal 400-watts of all-tube power, now could it?
The Custom 400 is built to the same specifications as the DR201 and the DR405, but the Custom 400 varies in that it utilizes six KT-88 tubes in the power section, four ECC-83's in the preamps with one ECC-81, and Partridge transformers. It also features adjustable output impedance (4, 8, or 16 ohms).
If you are looking for warm bass tones and enough power for The Who, check out the HIWATT Custom 400 bass amp heads. https://www.hiwatt.com/