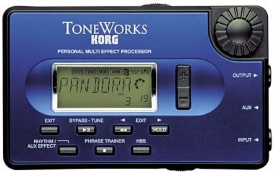 Ten years ago you could have filled a closet with all the gear required to do what Korg's palm size Pandora PX3 Personal Multi Effect Processor does. Part effects unit, part beat box, part personal guitar trainer, the PX3 puts so much in so little space, and you'll wonder how they found room for the four AAA batteries that power it.
As its name implies, the PX3 is first and foremost an effects processor. All the usual suspects are here: gain level effects, delays, doublers and reverbs, plus a few you don't usually see, like compression, autowah, vibrato, autopan, and six types of speaker cabinet emulation. Standouts include the rotary speaker simulator, octave and sub-harmonic effects and an intelligent pitch shifter.
Up to seven effects can be combined, and the unit offers storage space for 50 presets and 50 user programs. Korg's concoctions include everything from authentic-sounding country and jazz tones to a wide array of distortions and assorted swamp gurgles and spacey washes. If there was a knock-out among the factory presets, it was Flower, a mix of shallow reverb and light delay that resolved in a randomized trail of bleeps and blips that followed every not –in key, no less!
While the individual sounds aren't as flexible as what you'd find in dedicated ToneWorks effects pedals, each one has a couple of adjustable parameters and many of them sound great just as they are. The Pandora's combination of rotary level selector dial, matching rotary graph, small but info packed screen and standard +/- and on/off push buttons make surprisingly easy work of the unit's maze of presets and parameters.
What makes the Pandora superior to your run-of-the-mill multi-effects unit is its array of extra features. While it's not uncommon to find a tuner and metronome folded into just about any piece of guitar gear these days, the Pandora PX3 also features an analog tone beat box with 40 rhythms and optional key changeable bass lines, a phrase trainer that can sample up to 16 seconds of music and slow it by 75 percent without changing pitch, a "stereo center" canceller to eliminating lead guitar and vocals from recordings and a key transposer with a range of plus-or-minus one octave.
Anyone who just wants to spice up their sound might do better to invest in a couple of dedicated stomp boxes. But if you're looking for a tool to improve your chops, make your four-track demos sizzle or spark your creativity, the Pandora is one hell of a little box. This is what Q would have given 007 in he played guitar.–Discontinued product.
Buy Korg Pandora PX5D Guitar Multi Effects Processor