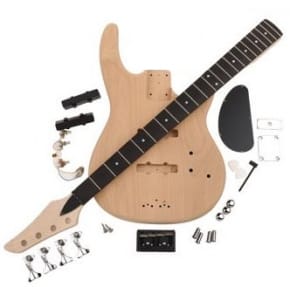 Our Carvin BK4 bass guitar arrived in 42 separate pieces, and we couldn't have been more excited. No, UPS wasn't to blame: this was one of Carvin guitars's innovated do-it-yourself bass kits, which lets you build your own instrument easily while saving some serious bucks.
Carvin have long established themselves as a quality instrument builder with an impressive list of endorsees and signature models. While they do a fine job, their guitar and bass kits allow customers to experience the satisfaction of building a quality instrument for themselves, using the top quality components and hardware for which Carvin is renowned.
The BK4 bass guitar kit arrived in a flat pack, with all parts and components carefully wrapped. The components are the same as those found on Carvin's four-string, bolt-on B4 model: a premium-grade alder body, a 22-fret maple neck with ebony fingerboard and graphite nut, a Hipshot bridge and a pair of Carvin's acclaimed H50S humbucking pickups. What's more, absolutely everything is included: in addition to the pre-wired harness for the passive electronics and foil shielding and brass inserts for the control cavity, Carvin also provides all the necessary adjustment wrenches and even a set of strings! Throw in the detailed instruction, and the BK4 is virtually idiot-proof to build.
Before grabbing a screwdriver, we needed to prepare the wood. Although the neck and body have been machined to within 1/1000th of an inch accuracy, they still needed some final sanding and finishing. Following Carvin's guidelines, we applied a tung oil finish to both neck and body. This quick and painless process produced a soft satin sheen on the wood that was attractive, protective and pleasant to the touch. To further enhance the grain and add some color, we opted to pre-treat the body and headstock with a green stain before applying the oil. Follow the instructions in any good repair guide if you want to undertake this procedure for yourself.
With the body and neck prepared, we were ready for the fun part—bolting everything together, wiring it up and watching the BK4 bass take shape. This took only a few hours, thanks to the pre-drilled holes and minimal soldering required. Even the bridge saddles are pre-adjusted. In short, the BK4 kit provides all the fun with none of the hassle. It practically builds itself.
After we followed some carefully described adjustments to optimize the set-up, the BK4 was ready for the all-important performance test. Not surprisingly, this bass sounds good, thanks in large part to its quality components. The H50S pickups inject some extra-sweet wallop into the classic Jazz bass formula, and the simple two-volume/master tone controls offer a bold range of sounds for a passive instrument: from sub-aquatic rumbles to pokey leads to head-butt slaps. This is one solid and versatile bass that's more capable of barring its teeth when required. The flawless fretting and slim, tung-oiled neck also make playing it a real pleasure. It may be homemade, but if feels better than most production-line efforts.
Carvin builds all of its instruments from scratch to the specs chosen by the customers from their huge list of options. Thankfully, this custom service extends to their humble kit models. For a mere $50, we added the strings-through-body option to give our bass the extra punch this set-up offers (the chunky Hipshot bridge can accommodate both top and rear stringing). Other affordable options include five-string and active kits, black or gold hardware, at no extra charge, a fretless version.
The End Line
Aside form the "guess what I did this weekend" sense of pride it gives you, the BK4 lets you save cash while you have fun constructing. The production B4 costs a respectable $769 while the kit provides much of the same bass for nearly $220 less. The kit is so well prepared that the results are far less Frankenstein than you might fear (apart from the bolt-on neck). Follow the instructions carefully and you're guaranteed an attractive, slinky-playing groove machine.
For more information, visit Carvin's official website at www.carvinguitars.com