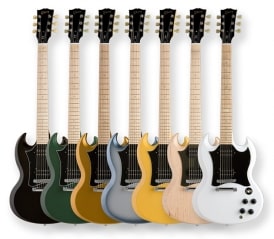 Inspired by the popular Raw Power Les Paul of 2000-2001, the newly revitalized series of 2009 includes both the Les Paul Studio Raw Power and SG Raw Power, both in the dressed-down styling and meaty performance package that so many players loved in the original release, but with notable added features to update the theme.
The new Raw Power guitars follow the ethos of Gibson's Studio series, and their down-to-business looks are packed with performance features that the modern musician will appreciate. These are grab'n'go workhorse guitars for tone-conscious rock and blues artists. Both the Les Paul Studio Raw Power and SG Raw Power feature unbound solid maple bodies, with a traditional carved top on the former.
This sturdy tonewood offers a clear, well-defined sonic response, as well as looking great with minimal cosmetic treatment. Their solid mahogany necks are topped with unbound maple fretboards, which are dressed with simple dot position markers, and graced with a traditional trapezoid marker at the 12th fret.
A Natural Satin finish denotes the cornerstone of the series (with smoky acrylic pickguard to enhance the natural elements in these guitars' tops), but both models are also available in a range of finish options, including Satin Gold, Satin Yellow, Satin White, Satin Blue/Platinum, Satin Trans Ebony, Satin Aquamarine, and Gloss Platinum. Furthermore, the Les Paul Studio Raw Power is available in either chrome or gold-plated hardware.
Loaded with a pair of 57 Classic humbucking pickups offer a broad appeal for a wide range of playing styles. One of Gibson's most popular pickups of all time, the 57 Classics employ Alnico II magnets, vintage enamel coated wire, nickel-plated pole pieces, nickel slugs, maple spacers and vintage-style, two-conductor, braided wiring, just like the legendary PAFs that they are based on. In a variation from the majority of original PAFs, however, the '57 Classics' coils are wax potted to combat microphony and feedback squeal at high volumes so, while vintage voiced, they are also suited to high-gain playing.
The legendary Gibson Tune-O-Matic bridge and stop bar tailpiece pairing aid tuning stability and enhance sustain, while green-key Grover Kluson-style tuners add subtle vintage elegance to their superior performance. A Corian nut helps to ensure excellent resonance and sustain, as well as hitch-free performance. Both guitars feature glued-in necks and are built to Gibson's traditional 24 3/4″ scale length, with a neck width of 1 11/16″ at the nut. All Raw Power Series guitars come equipped with a Gibson gig bag.
The new SG Raw Power from Gibson USA adds another dimension to Gibson's most popular model of all-time. Everything about the SG Raw Power still screams SG. But take a closer look at the new colors, the new upgrades – and the new nice price – and you'll see it's more desirable than ever before.
Above all, the most inspired design in guitar-making history is now available in solid maple. It creates a fresh, brilliant tone previously unheard of from a standard SG. And for the first time the SG is available with a three-piece solid maple neck, topped with a maple fingerboard. Notes are vividly clear, and chords are purely expressive. It was hard to improve the world's best-playing neck, but we did. The SG's signature look also gets a facelift with a new palette of satin nitro finish colours, and a pair of Gibson's '57 Classic humbucker pickups gives it a brand new power plant. Legendary 'PAF' tone in a totally contemporary format.
Read about the all-new Gibson Les Paul Studio Raw Power here.
Gibson USA Raw Power