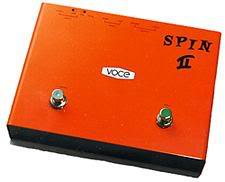 Guitarists and keyboard players may forever battle over who gets to play the longer solo during "Whipping Post", but they do agree on one point: there's nothing like the rich, swirling sound of an instrument plugged into a big old Leslie cabinet, with its whooshing, rotating horn and speaker.
Problem is, who wants to cart around a mammoth cabinet that contains two speakers and a motor?
That's where the Voce Spin II comes in. Orange and dangerous, this stereo, AC-powered stop box produces an admirable simulation of the sound produced by the horn and lower-rotor speakers of a Leslie cabinet.
Unlike low-rent boxes of the same ilk, the Spin II provides speed controls for each of the two simulated speakers, as well as adjustable acceleration that lets you regulate how quickly the effect ramps up when kicked from slow to fast speed. These nifty features allow for and almost infinite number of tweakage as possibilities, and make it a snap to dial in the desired amount and character of swirl. Other features that put the Spin II at the top of its class include a selectable line-level/high-impedance input switch and an adjustable output level.
While the Spin II sounds good when used mono, the unit truly comes alive when operating in its full, stereo glory. Plugged simultaneously into a Marshall Super Lead and a Fender Vibro-King (both cranked to high heavens), the Spin II produced an uber-Leslie sound so full and rockin', I dare say it outdid and certainly outmaneuvered our old Leslie cabinet.