Bugera 333XL: The Ultimate Guitar Amplifier for Rock, Metal or Hardcore Guitarists
From its raw massive tone to its tight articulate punch, this colossal power machine determines road-worthy and redefines reliability.
The Bugera 333XL amplifier [created by Behringer] comes with 3 distinct channels of controls and delivers a powerful 120-watts of madness. The Bugera 333XL comes with a rugged four-way metal case footswitch for channel and FX selecting.
Despite being a hardcore metal amplifier, the Bugera 333XL has a lighter side as well, you can effortlessly get a clean rhythm sound by simply rolling back on the guitar's volume control. The Bugera 333XL has a nice edge, the valve amplifier provides low E-string articulation and crisp heartfelt punch. Make your fans rock wild, make them headbang… or make them weep. The Bugera 333XL is an all-around great amp.
This is no ordinary amplifier
It's more like a precise weapon. With the economical price of this valued amp, it will the competitors weep! It will give anyone a run for the money.
The 333's killer power is generated from four hand-selected and matched Bugera 6L6 power tubes and four Bugera 12AX7 preamp tubes to add up for petrifying punch and mind-rattling gain.
Bugera 333XL Guitar Amplifier Video Demo
A lot of amplifier company's philosophy is to design and build small amplifiers because they think people can't afford larger ones with all the bells and whistles. Hence they produce a small number of amplifiers with marginal quality. Bugera 333XL is the answer and works wonders with the new world of today's guitar world. What else can be said about the new Bugera line? It's a killer product.
Bugera 6260 Guitar Amplifier Review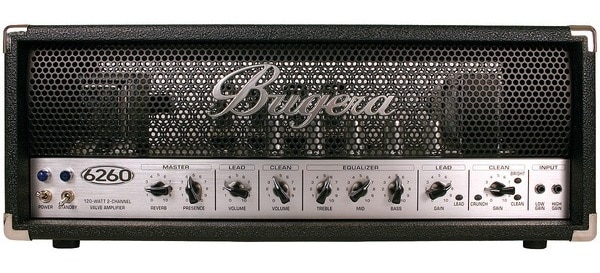 Behringer is known for its wide range of amazingly affordable and primarily solid-state music equipment. The Behringer crew decided it is time to enter into the heavyweight tube-amp arena, and they didn't come quietly, they came in blazing with a new brand to grace upon us. Meet the budget blaster … the Bugera tube amp!
The 6260 100-watt head model shares many key components with its Bugera counterparts, something that trims down production costs. in addition, with the Bugera's similar chassis metalwork and cabinetry dimensions, the models share the same power and OT (output transformer) designs. The amplifier's transformers are generally its most pricey components, and the OT is a particularly important contributor to overall tonal qualities (as for any amp.)
According to Behringer's leading chief, Uli Behringer, the company developed and refined the perplexing design details and sound of the Bugera's OT for over a year. With that kind of boutique-like dedication for detail, it's obvious the Bugera crew is truly serious.
Similar to all of the Bugera amp design models, the 6260 sports four output tubes (which all of the tubes reside in high-quality ceramic sockets). And for you hardcore tone maniacs, all of Bugeras are integrated with a select switch that changes the amp from either 6L6 or EL34 operation, and a conveniently placed top-mounted bias pot with RCA test-jack makes it easy to check, fine-tune and tweak your amp's bias on the fly.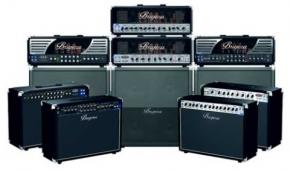 The 6260 shapes an especially collaborative bond with the exceptionally smooth – deep – and rich sounding Bugera 412H – BK 4×12 speaker cabinet. It's obvious that the Bugera team did a lot research and experimenting to design speakers that so flawlessly complement the sound of the 6260 head; you will have to hear them together to get the inclusive Bugera experience. The amazing thing is the Bugera speakers are made in their factory. It's easy to understand why the Bugera speakers match the head so seamlessly when you play it first-hand, you will hear for yourself how Bugera's manufacturing capabilities allow the company to perfect their amp / speaker performance so readily.
Bugera 6260 w/ 412H cabinet
The BK halfstack is a serious rock-n-roll machine. And while the clean channel is indeed capable of crisp and punchy clean sounds (especially with vintage-style single-coil or PAFs pickups), this rig was clearly born to kick ass and take names. Engaging the clean channel's crunch mode drives up the gain with a more aggressive upper-midrange tonage that barks back with Pitbull-like authority, and amazingly, it's equally effective with either single-coils or humbuckers.
Peavey 5150 vs Bugera 6260 Tone and Sound
The lead channel increases the gain with more perfected voicing, upper-mid-range emphasis and a leaner, trimmer and more percussive low-end that handles down-tuned and 7-string guitars flawlessly. Despite the tonal personality, the lead channel sounds fat thanks to the cab's exceptionally thick bottom-end thump. It's truly amazing how seamlessly both amp channels work together and how many great sounds are available from so few controls. The Bugera 6260 is much like the Peavey 5150 in so many ways.
Bugera 6262 Guitar Amplifier Review


Bugera 6262's clean and crunch channels (by Behringer) feature a vintage designed EQ section with bass, mid and treble that is simply beyond one's imagination. Both channels offer classic presence controls. In addition, there is a master volume and a master cut control. There is an internal diode that pushes the amplifier even harder making it break up more. The Bugera 6262 also features useful effects loop for you FX lovers. Impedance switches (4, 8 and 16 Ohm) are made to match virtually any speaker cabinet. Heavy-duty, rugged footswitch for channel selection and FX Loop function are included. The guys at Bugera are no slouch, they hand make their tube amplifiers using high-quality components and excel for building rugged equipment to ensure long life and road-incredible amps.
The Bugera 6262 amplifier is amazingly versatile as it can be used in the practice area, the stage, and in the recording studio. This piece of equipment really does the trick for all settings. With a massive power transformer at 120 watts full-blown, doubt any sane guitarists will turn the master up past 6, but who said guitarists are sane? When it is rocking out it goes from country style slight clipping, to bluesy twang, to hard rock sing, to rock grind. If you like the British sounds then this is absolutely the amplifier for you.
The Bugera 6262 has a classic 2-channel preamp design, a clean and a lead channel. The clean being very clear and sultry and the lead with a ballsy overdriven raw tone. When cranked to the maximum, the clean will break up and one can get those chimed tones like the edge. It is spot on for a Hendrix type of break up. However, it remains totally clean until 6 which is incredible, the cleans on this amplifier hold it's own.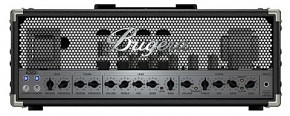 The lead channel is voiced relatively light. It has the possibility to be full-blown on crunch but has lesser distortion because of the unique voicing. It obviously works well with a Fender Strat. With tone amplification capability, it is stacked with filthy crunch which provides incredible tone. Love the Jimmy Page's Black Dog? The Bugera 6262's crunch is spot on. Fan of Clapton? Get that early Eric Clapton with cream sound flawlessly. We could go on, but words do not describe it. Bulgera 6262 has no difficulties getting the ultimate British rock guitar tones.
The Bugera 6262 120-Watt two-channel Valve guitar amplifier head with reverb is the authority of tone, designed for ultimate versatility for guitarists who wants diversity of amp sound at the controls of the dial knob. From rock to country, metal to alternative, to grindcore, this beast performs with the best of them, hand-built with raw massive power and roadworthy reliability, and virtually unlimited dynamics in a 2-channel configuration.
This beast is a high output 120-watt valve amplifier and provides mammoth tones
Amazingly, it gets very little noise, even when relentlessly cranked. It is super touch-sensitive and responds amazingly to pedals and effects. It is a fuller, deeper, and warmer than most other production amplifiers. It really does provide that boutique sound that people are always talking about and pay that high dollar for in other amps. It is a straightforward amp and simplistic yet diversity, it's a calling card to cover a full gambit of rock styles. It is wonderful for the blues and the rockin cleans. This amplifier is art for rock and roll.
Bugera 6262 Video Review
At the end of the day, a musician on a budget will absolutely love the price, the Bugera gives the Bugera 6262 give high-end amplifier companies a run for the money. When it is rocking out it goes from country style slight clipping, to bluesy twang, to hard rock sing, to rock grind the amplifier's performance is just too brilliant far, wide, and loud.
Three Bugera Amplifiers by Behringer That Rock – Comment Below
Bugera 1960 Guitar Amplifier
Bugera 6262 Guitar Amplifier
Bugera 333XL Guitar Amplifier
Bugera 6260 Guitar Amplifier
Edit: We added the Bugera 1960 as it makes a nice rock amplifier clone to a Marshall. Read our Best Bugera Clone Amplifiers article by clicking the link. Which is your favorite Bugera amp on the list? Leave your comments below.