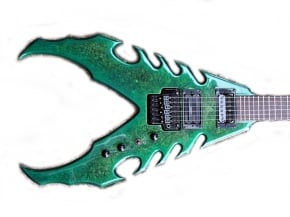 Neal Moser has been designing pointy guitars for many years and is known for his radical-looking instruments. He emerged from retirement in recent times to open the Moser Custom Shop in Southern California making high-end rock guitars and has also started to offer lower-cost import versions of his distinctive models, which is exactly what the Moser BVi-T is all about.
The BVi-T gives all the look, sound, and playability of a custom guitar, but with a production line price tag, which we can all appreciate in these tough times. It features a maple neck-through-body design with alder wings to make the V shape, happen and a unique cutaway behind the bridge that makes this unlike any other V guitar out there. The neck is cut to a 24 ¾" scale and has an inlay-free fingerboard with 24 medium-jumbo nickel frets. Hardware includes Grover tuners and a licensed Floyd Rose trem, all in metal-approved black.
The electronics here are two humbucking pickups, a blade-style unit in the bridge position and a more traditional six-pole pickup in the neck slot. Controls are an individual volume for each pickup, a master tone, and a three-way pickup switch. The no-name pickups sound great and have plenty of aggressive attitude for even the heaviest of metal types out there. The out-of-the-box setup is excellent and allows players to shred and riff with ease. Like any V guitar, this axe is meant for the stage and can be difficult to play sitting down. Other than that, this is a negative-free guitar that would make an excellent choice for any aggressive guitarist interested in something different.

Moser V BVi Guitars Video Demonstration