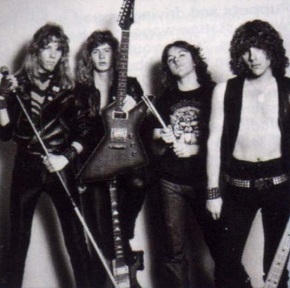 It's hard to keep a band together for a year. It's rare to stay together for 10 years. 20 is amazing. And 30, well damn… that's a miracle.
30 years ago, after a few ads in the local newspaper, and some wise firings, 4 nobodys formed what would be a thundering shockwave that would resonate throughout the musical community and rattle the very foundation of popular music. Metallica formed on October 15 1981.
After juggling the two names Metal Mania and Metallica… well you know which name they went with.
Fun Fact: Lars chats with friend Ron Quintana, who is brainstorming names for a fanzine. Among Quintana's proposed names are "Metal Mania" and "Metallica." Lars convinces Ron to name the fanzine Metal Mania and "steals" the name "Metallica" for his band.
And so it was. James Hetfield, Lars Ulrich, Dave Mustaine, and Cliff Burton.
Shortly after traveling to record their debut album, there was an area of the group that needed to be taken care of. Dave had been grappling with uncontrollable alcoholism, and they just couldn't do it anymore. According to the band, he had violent outbursts of rage too often, so they bought him a bus ticket and dropped him off. That was that.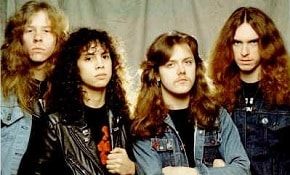 Enter Kirk Hammett. Kirk, formerly a member of Exodus, was recruited to handle lead guitar duties.
This band of metal brothers went on and recorded their first album , entitled Kill Em' All. This album, though young and somewhat crude, laid the path that would allow Metallica to cut a swath miles and miles wide through the heart of pop and easy listening.
Metallica was gathering momentum, making a name for themselves in the metal world, and climbing the ladder. Their sophomore release, Ride the Lightning, was big news, mostly on account of the hits "For Whom the Bell Tolls", "Fade to Black", and "Creeping Death".
These three songs are arguably the ones that grabbed the attention of many. For Whom the Bell Tolls and Fade to Black remain popular staples of their live set to this day.
If the band thought that Ride the Lightning was a big deal, they must have been floored when the chart numbers rolled in for their third work, Master of Puppets. Master of Puppets went on to be one of the most popular and influential metal records of all time, let alone in the Metallica catalog.
The band moved on, touring constantly, learning and growing, when tragedy struck the band in late 1986. While touring in Sweden, Metallica's bus skidded out of control, ejecting Cliff Burton through the window, leaving him trapped underneath the vehicle.
Fun Fact: Ron Mcgovney was the original bassist of Metallica before Cliff Burton.
Metallica was in pieces. Amongst all the success, money, and energy, they had lost one of their biggest assets. Cliff was known for his innovative work on the high notes of the bass, in conjunction with a wah pedal.
When the band thought that all was lost, they decided to push on. They quickly took a liking to Jason Newsted, brought in to replace Burton.
Newsted showed their morphing sound and growing skill with the 1988 release, …And Justice for All. Many of the songs here showed the bands difficulties with the death of their bandmate, and how it affected them.
When 1990 came about, the group felt they needed a change. They had been working with producer Flemming Rasmussen since Ride the Lightning, and they needed a new direction. Management had requested legendary producer Bob Rock to mix the following album, to which he replied, "I don't want to mix it, I actually want to produce it."
The change would prove to be historic, when their self-titled record would live on to be their most successful album to date, reaching a status of 15x platinum, and selling more than 650,000 copies in its first week. Rock went on to produce the next 4 albums with them as well, solidifying the cherished work relationship that gave them so much popularity.
After the next two albums, Load and ReLoad were done in 1996 and 1997 respectively, the band had clearly reached superstardom. From being a band that even after their fourth successful album were only played by 10 radio stations in the country, they were now the biggest metal band on the planet.
Later, in 2002, Newsted left the band, claiming he needed a break, and the rest of the band wouldn't grant him one. He went on to work with his project Echobrain, later performing with Ozzy Osbourne and Voivod.
This period is often described as the most turbulent period in Metallica's career. Lars and James had serious trust issues with each other, and it seemed that no one could get along.
With long time veteran Rob Trujillo now filling the bass slot, they had their work cut out for them.
Metallica went into a form of therapy, attempting to work out the issues they had with eachother and their career, and followed that up with a critically acclaimed documentary, Some Kind of Monster, which would be released in 2004, one year after their unpopular studio release, St. Anger. The response to St. Anger was almost entirely negative.
Now Metallica has emerged in a good place again, recording a successful record, Death Magnetic, with high sales and many tour dates.
So here's to you, Metallica, for surviving the last 30 years and remaining to be an extremely popular band with enough milestones under your belts to cover the golden gate. It's an amazing feat, that should be admired and commended by anyone who's ever headbanged to "Enter Sandman" in their bedroom.
Speak up, readers! We are eager to hear your opinion of Metallica on today's modern scene. Comment below, and let us know! Now We'll leave you with one of the best songs in the world.
Metallica Fade to Black