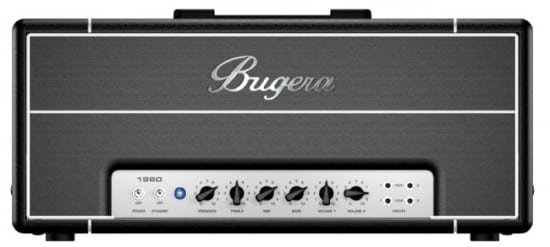 Bugera is probably one of the biggest buzz in the amp world: Made by Behringer, which is known for its wide range solid-state gear at amazingly affordable price, has entered the heavyweight tube-amp arena with a loud- and promising-explosion. Bugera amplifiers are made in Behringer's sprawling factory complex in Zhongshan, China. Bugera produces 17 different models: six highpowered heads, one 55-watt boutique-style vintage head, seven combos amps, a slant-front 4×12 speaker cabinet and two bass amp heads.
Ladies and gentlemen, meet the Bugera 1960. The Bugera 1960 Classic boasts 150-watts of hi-gain valve power with British design (Marshall clone).
The Bugera 1960 Classic Guitar Amplifier Head features the Vintage preamp design from the '60s, with 3 x ECC83 valves for terrifying punch and mind-blowing gain.
in the video below, YogiSizzle from YouTube talks about Bugera 1960 and does a cool video demonstration (scroll down to watch the video)
Summary:
This is a 150-watt all-tube amp, very simple, very basic, classic designing. The amp ships with EL34s, comes with an effects loop
Basic EQ: Presence, treble, mid, bass. Also you have two separate volumes; volume 1 and volume 2. When you jump the channels via a 1/4 jumper cable – volume 1 acts as your treble channel and volume 2 acts as your bass channel. What's even more interesting, is that you can take the two volume channels and blend them to your personal taste.
This amp is very powerful at 150-watt amp, so basically what you have is a "loud – fat – clean" sound system, which is also perfect if you use a processor, modeler or a pedal board. The 1960 Classic is the perfect power solution to take out live so you can use your current aforementioned rig set-up, or take to the studio because it's a sound engineer's dream machine.
Another way you can use the Bugera 1960 Classic is the old-school way, just crank it up! The Bugera 1960 is an extremely quite amp with both the volume 1 and volume 2 cranked-to-the-max, the amp had absolutely no noise or hiss, this is because the Bugera engineers designed the amp with built-in internal wiring and components to prevent any noise.
The Bugera 1960 Classic Features Include:

Hand-built 150-Watt hi-gain amplifier driven by 4 x EL34 valves
Vintage preamp design from the '60s featuring 3 x ECC83 valves for terrifying punch and mind-blowing gain
4 input connectors allow channel 1 and 2 to be linked via patch cable to mix the different tonal characters of each channel for ultimate tone
Vintage Equalizer section with dedicated Bass, Mid, Treble and Presence controls
Impedance switch (4, 8 and 16 Ohms) to match virtually any speaker cabinet
FX Loop with dedicated Level switch and true Bypass function
High-quality components and exceptionally rugged construction ensure long life
Bugera 1960 Classic Video