Guitar technology has come a long ways, especially in the effects world. From stompboxes up to digital amplifiers, the evolution is always evolving. By the time you buy the latest-and-greatest effects processor, to the time it gets delivered to your door step… to the time you get it unboxed… manual read… and plugged in, two generations of newer/better Multi-Effect processors have been released. You can never keep up with technology! That said, old guitar equipment is still good. There's no reason why you should try to stay up-to-date with the new coolest and latest piece of equipment, you'll just go nuts (and broke) trying. Forget that, jump on Craigslist right now and look for these following Boss ME pedals — Let's take a walk through these different generation Boss ME Mutli-Effects pedals that you can buy cheap.
Boss ME-25
Boss ME-30
Boss ME-70
Boss ME-80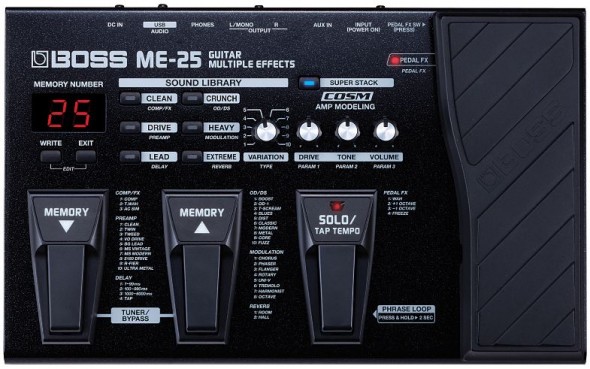 Boss ME-25 Multi-Effects Processor
BOSS is proud to announce the addition of the ME-25 Guitar Multiple Effects processor to its popular line of floor-based multi-effects. The compact and durable ME-25 inherits its high-quality sounds from the flagship ME-70, and packs a ton of BOSS tone tools into one amazingly affordable package.
Sporting a quick and easy user interface for professionals and newcomers alike, the ME-25 features a full compliment of COSM amplifier models. The onboard Sound Library comes loaded with 60 effects combinations suitable for a wide range of playing styles. The ME-25 runs on six AA batteries or AC power, and its portable size makes it ready to rock anywhere.
The ME-25 is stocked full of the best BOSS effects — distortions, overdrives, modulation effects, Delay, Reverb, Harmonist, and many more. The built-in expression pedal controls a number of pedal effects, including wah, octave up/down, and a unique freeze effect. Three heavy-duty footswitches allow the user to select sounds and perform other functions, such as accessing the built-in tuner, tapping in delay times, and enabling the SOLO feature.
The ME-25 is the first multiple effect processor at this price point to include BOSS' renowned COSM amp-modeling technology. There's a range of classic amps from clean combos to raging stacks, along with a Super Stack function that gets big amp tone from a small practice amp. A 38-second looper is also included for real-time sound-on-sound recording.
The ME-25 also includes USB connectivity, allowing users to stream audio and other data back and forth with their computer. A powerful librarian is available as a free download to manage sounds, and the ME-25 is bundled with Cakewalk SONAR 8.5 LE for multi-track audio and MIDI recording. Check for price.
Boss ME-25 Video Demo