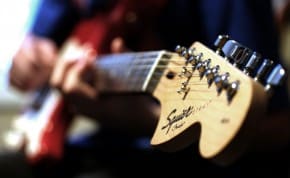 It's that time of year again, when everyone is on the edge of their seat—waiting and watching, for the shiny awesome products to be rolled out at NAMM. Calm down – this isn't a game-changing miracle device, but it's still pretty cool stuff that helped us narrow down the best Squier guitars.
What are the best Fender Squier guitars for the money you ask?
In this review, we are going to include our top 8 Squier guitars for the best bang for the buck… So strap in.
Fender has introduced these Squier models awhile back, putting some nice touches on a guitar line that has had less than impressive results in the past. But for the money, these Squiers but might be the best you can get.
The line consists of 8 models, each of which has its own special strengths and improvements.
Avril Lavigne Telecaster

The Avril Lavigne Telecaster boasts a basswood body, an inlay-free, 22 fret rosewood fretboard, and a maple neck. As far as horsepower, it only includes a single standard humbucker and a single volume knob. Cosmetically, however, it seems quite fetching, with a 3-ply pickguard, all black hardware, and a crafty skull and crossbones image at the 12th fret. This axe seems nice, though, for its $479.99 price tag, quality and tone may be taking a backseat to the brand name.
Jim Root Telecaster

The Jim Root Telecaster is similar to the Avril Lavigne in many ways, starting with its maple neck, rosewood fretboard, and all-black die-cast hardware. Unlike the previously mentioned guitar, however, the Jim Root features a much sturdier mahogany body, and two humbuckers, with black covers, making for a very dark looking metal machine, aimed at speed demons of the highest caliber. Its white pickguard and parchment inlays make for a very striking contrast with the black on the rest of the guitar. The Jim Root Telecaster retails for about 600 bucks, which again maybe a hair on the side of name marketing.
Mikey Way Mustang Bass


Next on the list is the artist-designed Mikey Way Mustang Bass, designed with the input from Mikey Way, of My Chemical Romance fame. The Mustang seen here is not too far of a stretch from a standard Mustang bass, its accomplishments lying mostly within cosmetic details. This short-scale bass offers a 19-fret rosewood fretboard on a maple neck, with a covered black humbucker pickup. The icing on this cake is the black racing stripes, which rest nicely on top of the silver sparkle finish. You can pick up one of these at the moderate price of $499.99.
The other major section of unique guitars from Squier is the Vintage Modified Series, which includes 5 spins on the old favorites  of yesteryear.
Vintage Modified 70's Stratocaster


First up is the Vintage Modified 70's Stratocaster. If you've been waiting for this article to discuss the exciting stuff, wait no longer. The take on this old relic is something to be seen—and heard. The Vintage '70s will bring up so many memories of the old Strats from way back when—you remember, those old off-white Strats with the enlarged headstocks. Yeah, they're back. Available in black or Vintage White, the Vintage Modified comes standard with three single-coil pickups, a volume control, and two-tone controls. Along with these old staples, these also include a basswood body, with a 22 fret ebony fretboard, with a maple neck. And with an MSRP of $399.99, who could ask for more?
Vintage Modified Telecaster Special


The Vintage Modified Telecaster Special immediately gives off sort of a "Keith Richards meets Bruce Springsteen" vibe. Available in White Blonde or Butterscotch Blonde finish, this Telecaster reeks of old-time rock and roll. Not much is necessarily new or different here, but it really brings out that old vintage Tele looks in a nice, affordable package. This Telecaster delivers many of the retro fittings, such as the classic Tele three-barrel bridge, a master volume and tone, and a three-position blade switch. One feature that isn't so old though, is the Jazzmaster alnico neck pickup, crafted for all those nasty blues bends you've been dying for. A 21 fret maple neck and fretboard look just plain awesome attached to the basswood body. This $499.99 guitar is guaranteed to make Jack jump and start you up.
Vintage Modified Surf Stratocaster


Here we can take a look at the Vintage Modified Surf Stratocaster, which comes complete with vintage-style hardware, chrome vintage tuners, and lipstick pickups as well. It's similar to the rest of the Vintage Modified clan, with a basswood body, a maple neck, and a rosewood fretboard, though it is available in many other hot colors, such as Candy Apple Red, Surf Green, and Sonic Blue. With an S-S-S configuration, and the white numbered volume and tone controls, this will whip you down memory lane and have you soaking wet in no time. MSRP: $499.99.
Vintage Modified Stratocaster HSS


There aren't many surprises in stock with the Vintage Modified Stratocaster HSS, but I wouldn't count it out just yet. This axe is basically a re-issue of the old CBS Strats from the seventies, with a roaring humbucker at the bridge. 21 frets, a basswood body, and a maple neck all continue in the same trend as the previously discussed guitars, and it also is equipped with a vintage-style synchronized tremolo, and of course, the everlasting two volume, two tone controls, with a 5-way blade pickup switch. The Vintage Modified Stratocaster HSS is available in cool black, charcoal frost metallic, or 3-tone sunburst. MSRP: $399.99.
Vintage Modified Stratocaster


Finally, what we have all been waiting for: a classic strat being brought back from the dead in a new era, presented in the form of Squier's Vintage Modified Stratocaster. Not much on the guitar is really "Modified", but it's nice to see the old workhorse Strat coming back in a new age. Picking up one of these babies shouldn't be difficult at all; everything's the same. That is, of course, meant in a good way, everything on this axe is just like it used to be. S-S-S pickup configuration, 3 controls with a 5-way switch, a basswood body with a maple neck, and a 21-fret rosewood fretboard. Available in 3-Color Sunburst, Black, or Vintage Blonde, I would start taking bets now on how ubiquitous this guitar will be on the scene in the next year or two. Here's the best part; (It's only $399.99!)
So what can we expect from this neat line of Squiers? No one really knows. But here's a fact: It's nice to see a guitar brand start to put out some more genuine axes, a far cry from its standard line of guitars.