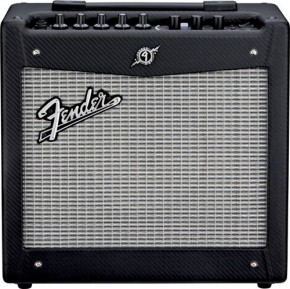 Fender continues its successful push into the arena of affordable modeling amps spearheaded by the G-DEC series. Now, with the Mustang I and II, Fender brings modeling technology to its more budget-conscious level yet. Mustang I and II feature a straightforward approach: modeled amp sounds coupled with great effects and virtually unlimited editing and storage potential through computer hookup.
Fender Mustang Amp Overview
The Mustang series currently offers two models, Mustang I is the smallest, lower-wattage version with an 8" speaker and 20 watts of power. It's very lightweight, and is the perfect amplifier for a personal player in a bedroom, teaching one-on-one, or for playing duets with another guitar player. Mustang II features 40 watts of power and a 12" inch speaker. It is lighter than most other 40-watt combos you'll ever encounter and will hold its own in an ensemble and on gigs. Beyond power output, speaker size, and, of course, their physical dimensions, the two amps are identical in every other aspect.
Touring the Top Panel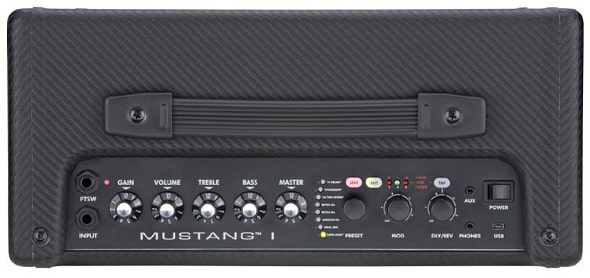 Mustang I and II may be based on modeling technology, but their front panel welcomes you with the familiar controls of a good old analog combo amp. Starting at the left side, there are two input jacks, one for the guitar and one for the optional footswitch (used for a versatile channel-switching function, described later). A set of five knobs follows: Gain (for varying the preamp overdrive ratio), Volume (for setting the overall level of each individual preset), Treble (for dialing in high-frequency content), Bass (low-frequency control), and Master, which varies the overall loudness of the amp regardless of the preset. Of these five rotary knobs, the setting for four of them (except the Master, which acts as a global control) can be saved as part of a preset.
The next section consists of the eight LEDs and corresponding labels identifying the amp type, plus the selector knob that allows you to dial through the presets. Above are the Save and Exit switches that you use for saving any edits you make. Once you dial up a preset, adjusting any of the front-panel controls causes the Save switch to turn red, indicating you've made a change somewhere. Cool! Following the Preset knob are the Modulation and Delay/Reverb selectors, respectively. There are 12 Modulation effects, including tremolo, Vibratone, flanger, chorus, etc., and 12 Delay/Reverb effects onboard.
Above the Delay/Reverb knob is the Tap tempo switch, you activate the tuner. At the far right of the panel is an aux-in jack (for plugging in your media player), a headphone out jack, the USB port (for computer hookup), and the power switch.
Presets Galore
The heart of the Mustang's operation is the selection of modeled amp types. Twenty-four onboard presets are distributed as eight selectable places, or slots, each with three "states" (variations on the amp's tone) differentiated by the LED's color (amber, green, red). Though you can load any sound into the amp (discussed below), Fender initially assigns the following models to eight slots: '57 Deluxe, '59 Bassman, '65 Twin Reverb, British '60s, British '80s, American '90s, Super-Sonic, and Metal 2000. It's intuitive and easy to dial up any amp type and any state in an instant. Once I got the knob scheme down,  I was able to switch between any two desired selections—such as '65 Twin Reverb green to American '90s red—in less than one second (I timed it). For those of you who want to switch presets in less than a second without taking your hands off the guitar, Fender offers an optional footswitch, to which you can assign any two presets. Assigning the sound is a breeze, and there's even a two-color status LED on the front panel to tell you which sound you're on.
Fender FUSE
Fender's new software application, called Fender FUSE, works in conjunction with the Mustang I and II to give them much more versatility with respect to preset creation, storage, and deep editing. Load up the software into your PC or Mac, connect the amp to the computer via the supplied USB cable and voila! You now have two-way communication between the computer and the amp. Fender FUSE's interface is gorgeous, giving you colorful and realistically rendered front panels of the classic and modern amps, stompboxes, and studio effects it's modeling. But more than that, it allows you to access parameters not available on the front panel. For example, in the effects section, you can access the Stereo Tape Delay's advanced parameters like Delay Time, Feedback, Flutter, and Separation. There is much more including additional amp models (Fender '57 Champ and '65 Princeton, to name just two) and effects, including Pitch Shifter and Touch Wah—along with their computer-editable parameters.
In addition to giving you deep access to parameters not available on the front panel, Fender FUSE acts as a preset Librarian, allowing you a virtually unlimited number of your own setups that you can recall and load into the amp. Using Fender FUSE allows you to load any 24 sounds you want into the amp. This way, you can customize your Mustang by, say, style, creating an amp that's all blues, all-metal, all rock—or whatever. While we're on the subject of computers, it must be mentioned that the Mustangs ship with two additional software packages: Ableton 8 Live Lite Fender edition for multitrack recording and IK Multimedia AmpliTube Fender for even more software-based amp and effects simulation. If you use these applications, you'll appreciate that the amp's USB jack works as a high-quality recording output (cable included).
Fender Mustang, The Conclusion
My favorite aspect of the Mustang I and II was the fact that I could look at the front panel, turn one knob, and get 99.99% of my sound right then—from acoustic to vintage blues to 21st-century metal, all with one knob. A tweak of the Gain and Tone controls, a little effect mixing, and I was there completely in under 30 seconds. A factor that in with the deep-editing capabilities that Fender FUSE provides and you have not just a great personal amp for an instant, on-the-fly modeled sounds, but a serious tone-shaping tool—one that you can really dig into to craft complete and ideal setups of your tonal creations.
Source: – Jon Chappell
Fender Mustang I and II a Guitar Amp For You?