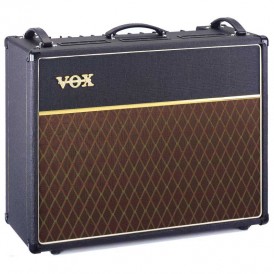 It's not just the notes you play, it's the tone you choose. Since 1959, thousands of guitarists have chosen the VOX AC30 for an authentic, honest, style-defining sound. For the purist, Vox offer the all-tube Custom Series, equipped with original Celestion Blue AINiCo speakers (AC30C2X) or Celestion Greenbacks (AC30C2). Looking for something lighter to carry and lighter on checkbook? Check out the AC30VR, equipped with Vox's highly-acclaimed Valve Reactor circuit. As expected the AC30 delivers an iconic tone as unique as you are.
Demo video of the VOX AC30C2
Below is a video demonstration of the VOX AC30C2 guitar amplifier that was launched in January 2010. Not like earlier versions of the AC30, this model will provides you with wonderful distortion at low volumes. In fact, should you want to hear the true impact of a tube amp, you need to crank it. In this demo video the Master volume does not exceed past 25%.
The VOX AC30C2 is a tube amp, 30-watts of shear-power, two 12 inch speakers. It's quite heavy… therefore, its necessary for the amp to come equipped with 2 handles to make easier to lug around for the gig thing.
On this demo, jAMMAN798 plugged the guitar direct into the amp, no effects were used. The reverb was set at 10%. Video digicam was set at a distance of 5 feet. Sound recorded is what the video digicam microphone picked up.
Check for hot buys and prices
The guitars jAMMAN798 used in this demo video were: Fender Telecaster (1968 model) and a PRS SE (2009 model). Watch the VOX AC30C2 demo video below:
Visit: Gear-Monkey.com Guitars & Amplifier Message Forum