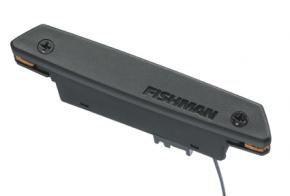 For years; acoustic guitars have been trying to perfect a system of amplifying their "unplugged" styling without the use of a microphone. Though many guitars these days come with built-in piezo electric transducers (i.e. pickups), players still complain of the harsh, brittle tone associated with those systems—a sound that requires quite a bit of tweaking to make it vaguely resemble an acoustic guitar.
Though piezo transducers have improved quite a bit over the years, the other option for acoustic players is to use an electromagnetic transducer (not unlike an electric guitar pickup) that fits snugly into an acoustic guitar's soundhole, such as Fishman's Rare Earth Models.
The Rare Earths are so named because they use neodymium (a rare metal) pole-piece magnets which, according to Fishman, allow for better string-to-string response. Available in single-coil or stacked-humbucking versions, the pickups are completely active, using low-current, battery-powered Class-A preamps. Installation is unquestionably hassle-free—just pop the pickup into the soundhole and tighten the mounting screws. For permanent installation, you'll need to cut the Rare Earth's pickup wire down to a length suitable for it to run comfortably from the pickup to the endpin jack, and drill a hole in the guitar's endblock to accommodate the Fishman jack (definitely best left to a pro).
We sampled the Rare Earth pickup in a Lowden 0-10 jumbo acoustic, played through a Marshall Soloist acoustic amp and directly into a Mackie mixer via a SansAmp. Each pickup had it's own distinct sound, but both models captured the exceptional bottom end, bright highs and broad dynamic range of the guitar.
The single-coil pickup behaved like a single-coil. It was susceptible to RF and 60 Hz noise conditions, and it was significantly brighter and more shimmering than its humbucking counterpart, making it a good choice for dreadnoughts and other boomy-sounding guitars. It also proved to be exceptionally responsive to fingerpicking and situations with various dynamic peaks.
The Rare Earth humbucker is very quiet and not as bright as the single-coil. It excellently harnessed the percussiveness and nuances of the guitar, fully capturing the instrument's natural, acoustic tone. The humbucker also features a brilliance switch that boosts 3 dB from 2 to 20 kHz. The effect is subtle, but definitely makes a difference when fingerpicking, yielding better single-note definition. Its coloration is also audible when strumming hard on the treble strings.
The End Line
Eric Clapton and his touring guitarists, Andy Fairweather-Low and Alan Darby, are using the Fishman Rare Earths on E.C.'s tour—and our tests explained why the man who made "unplugged" a household word relies on them. These pickups are an excellent choice for anyone who's in love with the characteristics of his acoustic guitar and is looking for a way to amplify it. Official link for Fishman's Transducers