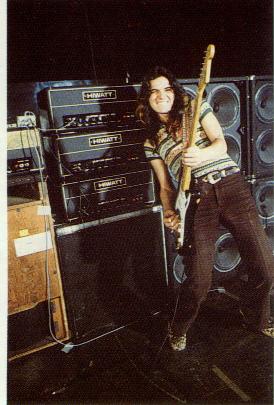 Tommy Bolin may be remembered as the guitarist who replaced Ritchie Blackmore in Deep Purple during the Seventies. But while this accomplishment alone would guarantee him a small footnote in rock history, he remains revered today for his blazing Stratocaster playing while variety of jazz-fusion and hard rock contexts.
Bolin had recorded two marginally successful albums with the Boulder, Colorado-based band Zephr during the late Sixties and early Seventies, but he first came to public prominence when he appeared on the James Gang's Band and Billy Cobham's Spectrum albums in 1973. These two efforts, released within a few months of each other, couldn't be more different—Bang is rough-and-tumble funky boogie rock while Spectrum is a sophisticated, ambitious jazz-rock fusion effort. What both albums shared was Bolin's razor-sharp, rapid-fire playing.
Here was America's answer to Jeff Beck, John McLaughlin, Jimmy Page and Ritchie Blackmore, all brought together in the persona of a skinny, pouty 22-year-old who looked like a natural-born rock god. Bolin recorded one more album with the James Gang, Miami, before quitting the band in October, 1974. He worked as a session player, recording albums with Dr. John and Alphonse Mouzon, but a few months later he was approached by Deep Purple, who wanted him to replace Ritchie Blackmore, who quit the band in April, 1975.
Advertisement————————————
————————————————————
Bolin's decision to join Deep Purple was bittersweet—the move instantly thrust him into the limelight of celebrity, but he faced the opposition of die-hard Blackmore fans and the challenge of propping up a band that was obviously on its last legs. Bolin recorded only one studio album with Deep Purple. Come Test the Band (1975), before they broke up. He had started work on his first solo album, Teaser (1975), shortly after he joined Deep Purple, and this, along with his follow-up, Private Eyes (1976), are perhaps the best examples of his work. Touring with the Tommy Bolin band as support act for guitar greats like Robin Tower and Jeff Beck, Bolin finally found himself in front of an accepting audience. A triumphant appearance in Miami opening for Beck was, unfortunately, to be his last. Bolin died the following day, December 4, 1976, from an overdose after indulging in a drug binge. Only 25 years old, Bolin wsa buried in his hometown of Sioux City, Iowa. His girlfriend placed on his finger a ring that allegedly had been on Jimi Hendrix's hand when he died.
In honor of Tommy R. Bolin – R.I.P
Bolin's favorite gear – Fender Stratocaster – Hiwatt Amps – Schulte Compact Phasing – Echoplex