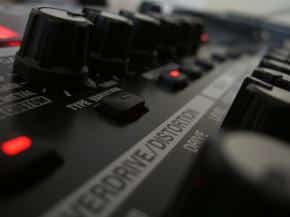 The war for control of your sole is heating up. Boss and DigiTech continue to massage their entries in the multi-effects floorboard skirmish, each fine-tuning their respective designs with new models and a host of new-and-improved features guaranteed to make true believers every mutli-effects loving axe wielder.
BOSS GT-3
Based on Boss' GT-5 floor processor, the GT-3 ups the GT-5's ante with more presets, a greater total number of effects (32 versus 28), compatibility with piezo pickups and some very cool effects, like Slicer and Auto Riff. It also offers massive editing options and advanced rhythm-based effects. All this at a lower price point than the GT-5.
With the help of parent company Roland's COSM technology, the GT-3's preamp simulator serves up a heaping plate of delicious tube and solid-state tones. The overdriven sounds of Metal Drive, SLDN ('Soldano") Lead and Metal 5150 settings with appease grinderheads, but the GT-3 really shines at the more subtle coloration of Clean Twin, Crunch and Match ("Matchless") Drive. The wide-ranging dynamics, complex frequency responses and subtle guitar-based interactions of these classic amps are captured with enough authenticity to put an army of vintage combos out to pasture.
The GT-3's bevy of effects is of the first order. Most impressive are the ring modulator's "intelligent" made, which allows it to function in a more traditionally musical way without losing any of its metallic craziness, and Auto Riff, which allows a riff sequence to be triggered by a single note. Auto Riff's 20 presets deliver conventional scalar and arpeggio patterns, but I set up two wickedly sick patterns of my own inside of an hour.
The GT-3 is full of rhythm-based effects, and all of them can be synchronized to one another via the "master beat-per-minute" control. This can be either pre set or tapped in via the control pedal. Surprisingly, there is no MIDI clock implementation. Programming and control of all these goodies is easily accomplished with the stomp pedals, expression pedal, rotary value dial and 22 multifunction buttons. The 140 user-editable patches can be quickly tweaked in an "easy edit" mode or built from scratch. The backlit LCD display is on the small side, especially for editing purposes, but it's quite visible under an lighting conditions.
If I have any disappointments, they are with the GT-3's manual (poorly edited and organized) and its guitar-synth tones (which make a strong case for why guitars and synths don't mix). Otherwise, the only excuse for not getting good sounds out of the GT-3 is your own lack of imagination.
Digitech RP-14D
DigiTech's RP-14D is a nice usable effects-processor. It makes amp modeling and effects processing easier than ever while maintaining DigiTech's learning-oriented features. Many of the RP series' sounds have been noticeably upgraded: the noise gate is more powerful and the flanger, chorus and phaser effects even richer. Simultaneously, the range of editing and control has been simplified to make the RP-14D an ideal "plug-in-play" pedalboard.
Fans of Korn, Limp Bizkit, Tool and all things bottom-friendly will take to the RP-14D like punks to the mosh pit. By employing a 12AX7 tube along with their wickedly good S-DISC II processing, DigiTech has packed the RP-14D with a slew of amp tones that excel at thick'n'crunchy grunginess. For instance, the Mesa Boogie Dual Rectifier model will put you waste-deep in gobs of molten metal, while providing enough responsiveness to keep you breathing—heavily, I might add. The selection leans smartly in this direction, as the cleaner and more complex sounds show a hint of one-dimensionality and propensity towards high-end hiss.
Overall, the RP-14D's special effects are of a very high caliber. One cool flavor is the YaYa (not to be confused with he Teletubbies' La-La). A blend of wah and flanging, YaYa creates a vocal effect which works most expressively on a guitar's low and middle ranges, adding some synth like funk to your palette.
If choosing among numerous effects paths leaves you scratching your head, you'll find the choices within the RP-14D easy to navigate. The effects chain is preset in a foolproof order, and each effect has no more than five parameters to tweak. Editing can be done quickly via eight small buttons, and the LED matrix shows your location in the grand scheme of things. Throw in the RP-14D's well-written manual, and you'll be customizing effects in no time.
The RP-14D is also packed with useful learning tools, including Jam-A-Long and Learn-A-Lick, which lets you capture 12 seconds of an incoming phrase and slow it down while retaining its original pitch. Lastly, DigiTech gets extra points for including an S/PDIF digital output, which makes digital recording or mixing or your guitar tone simple, with no digital-to-analog degradation.
The End Line
Different strokes for different folks. If you want a load of classic crunch, swirl and whammy in a quick'n'easy container, DigiTech is for you. You'll find all that and more in Boss's GT series, but put on a pot of coffee and get ready for a wild editing ride. Boss and Digitech effects processors can be found for a very reasonable price at MusiciansFriend.com.
*UPDATE* – I have added videos of the newest effects processors. Boss GT-10 vs DigiTech RP1000. Watch both videos below to help you decide which processor you like best.
Boss GT-10
Digitech RP1000